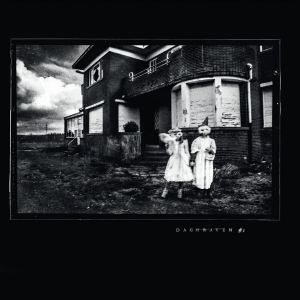 Daghraven is the name of a new outfit by Kevin Imbrechts, whom we know from the dreamy Ambient project Illuminine or Alternative Noise Rock band Mosquito. He had quite some ideas that did not fit to both other outfits, and eventually he wanted to canalise these ideas under a new moniker, which became Daghraven. Kevin did record everything at his home studio, and the result was mastered in Iceland; cf. his connections out there since his Illuminine connections (cf. the collaboration with no one else but Mr Birgisson!).
This first album, called #1, consists of eight compositions that come with a Dutch title. Everything was recorded by Kevin, although he had some sessions assistance by Beatrijs De Klerck (piano, Theremin and accordion on several tracks).
For almost one hour, #1 offers the audience quite creepy, eerie, haunting and oppressive ambient atmospheres, mingling the deepest ritual spirit of Drone with the darkest area of Ambient, canalising everything into a mesmerizing trip, a hallucinogenic journey through mental / spiritual / ritual dimensions of the most Arctic kind. There's a certain minimalism, but actually it is not at all.
You know, there are two possibilities: writing something for each piece, or summarizing everything. Right now I feel like briefly resuming, by means of just a couple of statements: ambition versus minimalism, dreamlike atmospheres, magisterial un-earthly passages, illuminating creations. I came along quite some Drone / Ambient releases lately, but for sure Daghraven's creation is one of the darkest, most oppressive but, at the same time, most convincing, mesmerizing, intriguing and fabulous ones I've heard in years. Every single piece, without exception, is a monument, a spiritual journey, a soundtrack to accompany your most masochistically-attractive nightmare…
I will keep it short for once, and leave you with the choice: you go for it, or you will f*** y***s*lf you m*th**f*ck*** f***h***… …or something like that… No, seriously, I won't spend my time in searching for the right words. I just recommend you, if you're into the deepest regions of Dark Ambient / Drone, to try this stuff out. You will not be disappointed! You will not…