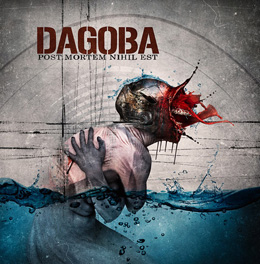 This Marseille based French Groove/ Industrial Metal act was founded in the year 2000 by singer/ samples provider Shawter, out of a previous band which he'd started up in 1997, and to which drummer Franky Costanza (formerly also of Imperial and Outburst, since 2005 also part of the Black/ Industrial Metal band Blazing War Machine) and bassist Werther respectively joined in 1998 and 1999. To complete the line-up, guitarists Stephan (also known as "JP"; left in 2002) and Izakar (see also Blazing War Machine) were recruited.
After having signed a deal with Enternote Records (who had a distributing deal with Edel/ Sony), the band records and releases its debut EP Release The Fury in 2001 to extremely positive critical response. Following Stephane's departure, the band's sound undergoes a change as well, which becomes apparent on the self-titled debut full-length (recorded by famed English producer Dave Chang, known from his work from, a.o. Stampin' Ground, Linea 77, and Orange Goblin), released in Spring 2003. To promote the album, the band went on a successful European tour, in part as support of Samael, and followed that up with a national headliner tour. The band took a little more than two years to come up with sophomore album What Hell Is About. Produced by the famed Tue Madsen, the 2006 album had a radically darker sound, with a Gothic flavouring, yet again got critical praise from the media. Live promotion for the album was done first on a European tour supporting the likes of Machine Head and Metallica, after which came a continental tour in support  of In Flames & Sepultura. Among the notable 2007 festivals, the band played at Summerbreeze and With Full Force. The band's 3rd album, Face The Colossus, which showed previously unseen aspects of the band, was again produced by Madsen, and released through Season Of Mist in September 2008. It was followed in August 2010 by Poseidon, which became a commercial success, charting at #41 in France (colleague Jeroen did a review of that album, posted 15/11/2010).
In July 2012 Izakar announced that he was leaving Dagoba due to irreconcilable differences with one of the band members, and would henceforth concentrate on Blazing War Machine and work at is Full Metal Studio. As his replacement, Yves "Z" Terzibachian (formerly of Where Eagles Dareand Caedes, and currently still active with  The Coyotes Dessert) was inducted into the band's ranks, while at the same time Shawter himself also picked up the guitar. With the new line-up, the band again returned to their home studio, and in March of late Shawter and Z spent 3 weeks in Los Angeles, where Logan Mader (guitarist for Machine Head) produced the album.
According to what I read in my colleague's review, Post Mortem Nihil Est is very much a natural progression from its predecessors, combining elements from Groove and Death Metal with Industrial and Progressive Metal. The keyboards often form a nice atmospheric contrast to the pounding drums (and adhering guitars & bass lines), and occasionally they even get an additional lead role. Vocals are for the most part growled, but the guys are not afraid to bring a song with far cleaner vocals too, or mix up the vocal styles within one song! If this was happening with a band in its beginning phases, one might start hollering about the guys not knowing which direction hey wanna go out with their music...but with an established act these tactics are mere proof of wanted diversity, and a diversity which works well to keep yours truly interested in the album from start to finish! I've searched the Internet for a good source of recent Dagoba music, but found none, and so you'll have to make due with what's available at (www.) facebook.com/dagoba13 [the band's own (www.) dagobaonline.com reditects to (ww2.) dagobaonline.com, which actually has no info on the band at all!], or check the videos at (www.) last.fm/music/Dagoba (a total of 23 bits of footage, most of which recorded live, and one video clip for this album's song "the Great Wonder", which was however no longer available when I checked). There is of course a page of the band at MySpace, but I have been unable to check that out...and then you should find a page of the album at one of the trusted onlinne sales websites (Amazon , iTunes , Napster , etc...), whom usually provide 30-second samples of all songs. Check it out!