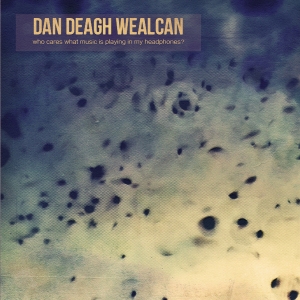 Album Title:
Who Cares What Music Is Playing In My Headphones?
Dan Deagh Wealcan are a pretty young project with a Russian and an Ukrainian musician, i.e. original member Mikhael A. Repp (Dan Deagh Wealcan were supposed to be a solo-outfit of this Russian guy) and Ungrace's Eugene 'Iowa' Zoidze-Mishchenkho. Earlier this year, the duo released its debut album, Two Straight Horizontal Lines And The Organized Chaos In Between: Director's Cut, via Metal Scrap Records. The review I wrote for this album wasn't that positive (see update June 9th 2015), but since the info that we received from the label speaks of 'differs dramatically from the first album regarding both composition and overall sound', I wanted to listen to this album the virgin-wise way (= unprejudiced), forgetting about that first album.
Who Cares What Music Is Playing In My Headphones? (once again quite an original yet strange title, sort of characterizing the eccentric song writing and play of Dan Deagh Wealcan) was written, arranged, produced, recorded, mixed and digitally edited by Mikhael from March to November 2014 in Moscow, once again with assistance of Eugene, who wrote the lyrics, who took care of the lead vocals, and who did some session keyboard lines.
Well, in mean time I listened to this album a couple of times, and my surprise is huge, and I mean this the positive way. Of course this material still is completely out-of-the-box, but Who Cares What Music Is Playing In My Headphones? indeed differs from the debut. Okay, it's not something completely new, this album, but the approach is different.
The album opens with Anamorphic Widesound, and the first seconds made (make) me think of a totally frenzy Harsh Noise eruption (nothing wrong with that, of course); but very soon my opinion needed another direction. This (short) instrumental opener mingles different styles, ranging from Post-Rock over Progressive to Industrial and Extreme Metal, and that indeed is the main idea behind the whole concept: a collage of very separated yet, at the same time, possibly-related genres and sub-styles, creatively (s)mashed up into a cacophonous yet still coherent symbiosis. This goes way beyond the ordinary what we're used to stuff.
In general, the whole is more tranquil and less chaotic than the former album, and the advantage is that the result sounds less trying-to-hard-yet-not-getting-there, and little more organic. …as if there had been created a structure within the complexity… Like the former album, this one mixes lots of styles (Post Rock and Post Metal, Progressive, Electronics, Industrial Metal, Alternative, Djent, Noise, Trance, New Beat, Modern Metal, Psychedelica, D-Beat Hardcore and many more), including some that have not done before: Ambient, Oriental stuff, Doom Metal, Indie and Trip-Hop, Acid-Jazz, Funk amongst countless other things.
It's quite impossible to compare this duo with one or another specific act, but what do you think about this: an offspring of The Dillinger Escape Plan, Tool, Strapping Young Lad, Ministry, Porcupine Tree, Nine Inch Nails, Converge, Mr. Bungle and Garth Arum???