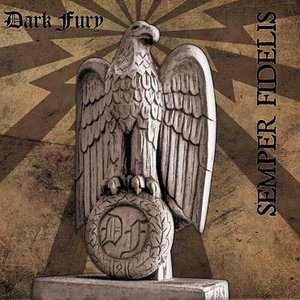 Hail!
There is no need to write a full introduction on Polish horde Dark Fury, for you can find the necessary information in one of the previously written reviews I did this and last year; just click on the band's name on top (the same, evidently, goes for the great other material on Lower Silesian Stronghold).
Semper Fidelis is a compilation with some of the oldest stuff done by this band around Lower Silesian Stronghold's owner K. as well as previously unreleased material (!). The different releases appear in a chronological order, which has its advantages, especially when wanting to search for the evolution within the band's sound and approach (but at the end, it's the final, global result that counts, evidently).
Semper Fidelis opens with the three tracks from the demo-tape Turning Into Ashes, recorded in 1997 and independently released in very early 1998. Back then the band was rather a symbiosis of the Nordic-styled trend (bwearghhh, I do not like the description 'trend', because it isn't appropriate right here, but I just want to make a point, all right?!) with that certain Pagan-oriented attitude that did crawl from the East towards the West (or something like that). I do not think this material was, from composition-wise point of view, of a superior quality, but the intention, the whole idea and the attitude behind it, well, it just satisfies me enormously. The epic melodies in symbiosis with the grim atmosphere and … Whatever, this stuff is just grandiose in every aspect. Ignore the sound quality – though this one isn't that bad at all, actually – and take notice of the convincing strength of this band. It's just the beginning…
Then come both tracks from the Krwawy Sztandar promo (1999). Actually this promo and the demo had been compiled on tape in 2003 as well (as part of a split with Thor's Hammer, if I'm not mistaken), but that's additional and irrelevant. It's much more blackened that the former demo; just listen to the riffing and vocals and you'll understand. This might have been a first step to this project's current sound, and despite being from the former millennium already, it sort of defines the actual greatness that developed later on [important, very important note: with 'develop' I do not, and I repeat: NOT mean that the former stuff wasn't as qualitative – at all! I honestly admire the demo as mentioned in the former paragraph!!!]. the result is faster, nastier, more intolerable and less diplomatic, yet sincerely marching forward to an evilized execution of malignancy, discomfort and hatred.
Then you can enjoy the material of the mighty Carnivore-EP. I'd like to refer to the review I did for this recording, which has recently been re-issued on vinyl: see update on December 22nd 2015. It was, once again, another step into infinity, yet still maintaining the essential origins of this remarkable act! No further comment, just check out the review… Just this: this is intolerant BLACK METAL!!!
At least as interesting are the three pieces that were originally part of the Shall I Drink The Fulfilment… / We Are The Only Gods-split with Othar, originating from 2005. We Are The Only Gods initially consisted of more pieces, so I have no idea why they weren't compiled in their totality. Anyway, this material is strongly comparable to the stuff on Carnivore, focusing on the warlike and merciless attitude of War-Black grotesquery, the paganised way evidently, with that combination of a taking-no-prisoners mentality and an epic Nordic-styled pride in song writing and execution.
A Gift appeared in 2007 on the third volume of the sampler The Night And The Fog, which also included stuff by the likes of Sombre Chemin, Ulfhethnar, Graveland and more of this kind of white beauty. This track too is somewhat a logical successor of the former recording material, including the very same specific vocals (quite characteristic they are for this project), a comparable fierceness of execution, and at least an atmosphere as warlike and proud as the latest efforts.
Finally, Semper Fidelis comes with six previously unreleased songs, though some of them have been re-recorded afterwards. But these versions are the pure, initial editions, and therefor coming close to some kind of collector's item statute. I can, but I won't, go deeper into each of them separately and individually, but I'd rather continue with presenting a general opinion, and once again (but what else did you expect) it isn't but affection to follow… Just ignore the inferior sound quality of the rehearsing session appearances (therefore it's a 'rehearsal recording', isn't it?), but focus on the aural essence of the material. And with Endless War the attentive listener just needs to notice and confirm the greatness of Dark Fury – a killer song that could have made it to 'anthemic' proportions.
This compilation is, unless you have all material (but you almost couldn't because of 1/3rd of previously unreleased versions), a MUST for everyone who appreciates this great act! It's not a bold statement, it's a promise!
No tolerance!!!