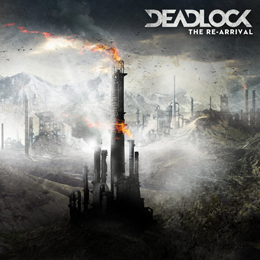 Release Date:
Saturday, December 27, 2014
Alright, let's do a quickie...that's what I thought yesterday evening, before picking up the info I'd gathered about this Gothic Metalcore act from Schwarzenfeld, in the Bavarian region of Germany, and realizing I had a bigger job ahead of me than I'd reckoned for.
You see, I thought this was just a compilation with songs picked from the band's past, and all I was gonna have to do would be to give references  to the albums the songs came from...but Deadlock did not deliver just a compilation here. Nah, the band had another thought in mind. Of course, everyone knows that today the band, consisting of founding member Sebastian Reichl (guitar/ backing vocals), longtime lead singer Sabine Sherer (joined late in 2002), and more recent recruits John Gahlert (shared lead vocals; joined 2011), Ferdinand Rewicki (guitar/ backing vocals; joined in 2011 as bassist, switched instruments in 2013) and new drummer Werner Riedl (whom replaced original drummer Tobias Graf only last year) is under contract with Napalm Records, through which they released their 2013 album The Arsonist...but prior to that they were signed onto the Lifeforce Records roster, through which they released a total of 4 full-lengths (2005's Earth. Revolt, 2007's Wolves, 2008's Manifesto, and 2001's Bizarro World, the latter preceded by the 3-track single State Of Decay). And before that, Deadlock was signed to the Winter label, who picked the band up after hearing their only and self-titled 1999 demo (which was released on a 7-inch vinyl single), and went on to release the I'll Wake You, When Spring Awakes EP in 2000, following that up with the band's full-length debut The Arrival in 2002, and the Deadlock Vs. Six Reasons To Kill split album (each band contributing 4 tracks), in 2003.
By then, the band had settled somewhat in its current style, which is a mixture of Melodic Death Metal, Groove Metal and Metalcore, while the alternating clean female and harsh male vocals bring in an element of Gothic. But...well, I'm already implying that things had been different in the past, now don't I...and indeed the band, which was founded in 1997 as a Hardcore at by singer Johannes Prem, guitarist Sebastian Reichl, and drummer Tobias Graf, along with a bassist known as Mike, and that's the band which delivered the debut 7-inch. Mike was replaced by Hans-Georg Bartmann in mid-1999, and it's in the new line-up that the band delivers its first EP. Although rhythm guitarist Thomas Gschwerdner joins the outfit at the end of 2001, he is not employed as musician on the band's full-length debut, which however doés contain guest vocals by Scherer (whom joins the band as permanent member at the end of the year). Mid 2002 also sees Bartmann depart, to be replaced by bassist Thomas Huschka, so it's a line-up consisting of Prem, Scherer, Reichl, Gschwerdner and Graf, who deliver the split record with Six Reasons To Kill, but regretfully yet another membership change occurs in 2004, when Gert Rymen takes over the position of rhythm guitarist. The last line-up changes occur in more recent times, with Huschka departing late 2008 (musical differences), to be replaced on the bass in May 2009 by John Gahlart, whom switched to the male vocalist position in 2011 when Prem left the band (actually, Gahlart had already taken the harsh vocals position before, on those performance occasions when Prem was unable to attend). Bass duties were taken over by Ferdinand Rewicki, whom had toured with the band in the past, serving as their tour manager, merch guy, and/or driver. Last of all, Rymen left in February 2013, leaving Rewicki to perform both bass and rhythm guitar.
Okay now, time to tell you what the band did with this compilation, right? And to get started with that, I'll use a passage from the promo sheet the label sent us along with the download of one of the two discs of the compilation : "...It's not that typical best-of release you might think of. It also demonstrates the somehow different approach, which the group also follows musically. Within the 30 tracks you'll find complete re-arrangements of Deadlock classics, rare and previously unreleased demo tracks, and even 3 brand new tracks introducing new drummer Werner Riedl..."!
In other words, even if in the past you've gotten yourself the "limited edition" versions of the band's albums, you'll find your money's worth with this double disc compilation! On disc 1, you primarily get a best-of culled from the 4 Lifeforce albums (with "We Shall All Bleed" and "Awakened By Sirens" off Earth.Revolt; "Code Of Honour", "Dark Cell", "End Begins" and "To Where The Skies Are Blue" off Wolves; Manifesto is represented by "Martyr To Science" and ""The Brave/ Agony Applause"; and off the band's last album off their former roster again come 4 songs, namely "Earthlings", "Virus Jones", "Renegade" and "Htrae"), but there's also 3 songs (disc 1 opener "An Ocean's Monument", "A New Era" - placed in the middle of the disc, and disc closer "The Arsenic River") not on any of those album's regular versions...making for a total of 15 songs for a near 69-minute disc!
But, as mentioned above, the band did not stop at that...nah, there's a second disc, with another 15 songs, of which "A Song Full Of Abhorence In A World Without Feelings" came off the band's 2002 EP, "With A Smile On My Face" originally appeared on The Arrival, and "The End Of The World" was culled from the split with Sic Reasons To Kill. Then, there's also a couple of songs which definitely were used on alternate versions of the band's albums with Lifeforce, like "Earthlings (Japanese Version" (no explanations needed, I guess?), an acoustic version of "Awakened By Sirens", and a cover of Running Wild's "When Time Runs Out". As for the other 9 songs...if you've only bought the band's regular songs, then those will be new to you too. As for which 3 songs are the brand new ones, I wouldn't wanna start to guess, because the album sounds pretty unilateral both in sound quality and style delivered!
As an end conclusion : this may be a "compilation", but it's definitely more than that, because it is also a perfect showing of what the band stands for today! Great stuff, and if you've never heard the band before, I suggest you check out their own site (www.) deadlock-official.com (some videos in the news section) or from there link to the pages on facebook, YouTube, SoundCloud and Spotify.