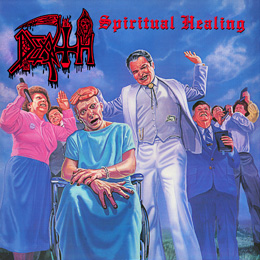 Release Date:
Tuesday, November 20, 2012
The x-th Death re-release through Relapse (see the archives-section for reviews done by undersigned concerning several other releases by this protagonist act, as well as some side-projects); this time 1990's Spiritual Healing, which was another mile stone within Death's history. It was the first album that showed a slightly 'progressived' direction since the superb album Leprosy, with still a continence of the 'old times', concretised in symbiosis with a new approach, which was (is) more modern, experimental, open-minded, avant-garde, etc. …Another prove of this band's superiority in intellectual-sonic essence!
When it comes to the original album itself: I think it wasn't as massive as Leprosy, yet still of an enormous quality in every single aspect (compositions, performance, sound and everything else), and back then it certainly was an experience beyond expectations with that specific experimental approach; a progression lacking of absurdism or exaggeration, and therefore unique and oh-so honourable!
Now remastered…
Disk two: previously unreleased rehearsal tracks, instrumental rehearsing outtakes etc.
Disk three (limited): previously unreleased live material and pre-Human-material…