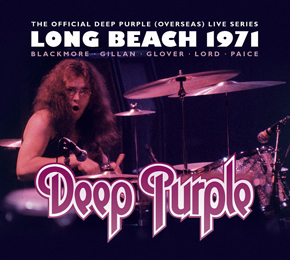 Ear Music has been reissuing some of  Deep Purple's back catalogue, and this is the latest release in this series, a live recording dating back to 1971, recorded at Long Beach Arena in Long Beach – California, where they played as opener for Rod Stewart and The Faces.
Now if you're a Purple fan you probably own the original record already , if not this is a change to lay your hands on a digital version.  I am not that big a Purple fan, although I cannot deny that there are a few tracks this band released that should be in everybody's collection, but this is an album I wouldn't buy.  And I'll explain why.  Clocking of at over 70 minutes of music, it only contains 4 tracks, 'Speed King' and 'Child In Time' from their fourth studio album 'In Rock', 'Strange Kind Of Woman', and finally a 27 minutes lasting version of 'Mandrake Root' from their 1968 debut album 'Shades Of Deep Purple'. 
This is of course rather rare material, so real Purple fans will be tempted to buy it.