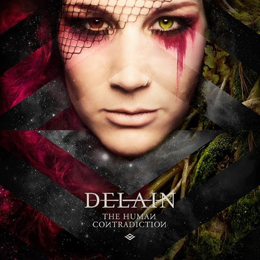 Dutch band Dealin is ready to take the world with their fourth studio album 'The Human Contradiction'. While their previous albums already were  good album, this one is even better.  As always Charlotte Wessels voice is  one of the key elements in this band's music.  While this is gothic metal, contradictory to a lot of female vocalists  in this genre, Charlotte is blessed with an more alto like voice, and consequently is able to sing with far more depth, without having to shift to more opera-like vocals, like her fellow countrywoman Sharon Den Adel from Within Temptation does.  Which makes that in the end I like Delain more then Within Temptation.
As always Delain have incorporated some orchestral elements in this album, but my impression it that this album is far heavier than any of their previous ones. There are some guest performances on this album, like George Ooosthoek from Celestial Season, who provides some harsh vocals on 'Tell Me, Mechanist', Marco Hietala from Nightwish, and finally Arch Enemy's new vocalist Alissa White-Gluz.
My statement : if Whitin Sensation manage to make it to the hit-parade, Delain surely deserves a chance as well.  They're as good, if not better.