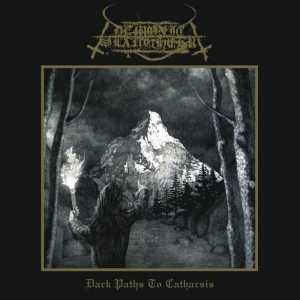 Release Date:
Wednesday, December 2, 2015
It's always a sardonic pleasure to listen to a (new) album on Lower Silesian Stronghold. With this sixth album by Poland's Demonic Slaughter it's no difference. This time in co-operation with French label Hass Weg Productions, Lower Silesian Stronghold prove once more that they are able to find qualitative bands (and releases) that are able to please a selected yet superior audience, and able to irritate the stupid, ignorant masses on our filthy globe. But I need to implement some self-censorship right now… Let's focus on Dark Paths To Catharsis, okay…
Demonic Slaughter are one of the many outfits of Kamil 'Xaos Oblivion', the guy behind projects and bands such as Abusiveness, Xaosis, Regicide Decease, Perdition etc., and of course Xaos Oblivion itself (on June 8th 2015, by the way, we did upload the [excellent, evidently] review for this project's latest release, Rituals From The Cold Grave). The guy took care of most instruments and vocals, music and lyrics, production, mix and mastering (at his Zen Xaos Studio), and he was assisted by Ghost Of Wrath (guitars and music), Morxakh (keyboards, programming, additional arrangements, music), and session drummer Opium.
Oh yes, the band loves the human kind and the whole left-winged democracy (otherwise they wouldn't be on Lower Silesian Stronghold, would they; and about the same goes for Hass Weg Productions, as you might know), and tolerance is their conviction. …NOT!
Dark Paths To Catharsis has a total running time of sixty three (!) minutes (ten tracks) and it brings two kinds of aural pleasure: the Classical way, and the Black Metal way. The album opens with the introduction Entering The Valley Of Mists, which is an intriguing opus with quite a sympho-bombastic structure. Several other pieces are within the same vein. The influence of Morxakh is undeniably important right here, and for sure of great importance to define this band. Several tracks are like bombastic and epic pieces of, why not, Wagnerian symphony-alike greatness, though seen from a much darker, denser, grimy point of sound, akin the magnificent current Dark Ambient hype that arouses undersigned and, I'm sure, quite some other obscure-intellectual minds amongst us. It's not that crazy that a Black metal act makes use of this kind of material, but Demonic Slaughter do not create this kind of fabulous majesty just as if it's some kind of acceptable addition; on the contrary, here these classical pieces are surely part of the whole concept, and therefor it needs to be praised. But since those compositions are -and I'm not hallucinating right now- truly well-thought, deepened, masterfully professional and so on, I just have to add some smileys: --- (of course I will not, but you will surely get the picture, won't you…). It's like a symbiosis of a horror movie soundtrack, some mostly dark-edged classical compositions, and some mixture of Dark Ambient / Sympho / Neo-Classical bombast (without denying a certain 'Apocalyptic' attitude, and then I'm rather referring to Martial Folk acts like Arditi or even the likes of Waffenruhe and consorts), you see…
The metalized part is at least as overpowering, yet less peaceful and tolerable. Demonic Slaughter's Black Metal is of the melodic kind for sure, yet with an atmosphere so dense, oppressive and grim… The material finds its essence within the Nordic-styled trend for sure, when the Pagan approach was still true and honest, and this gets translated by tracks that are both pure and convincing in sound, execution and atmosphere. These three elements, sound, execution and atmosphere, are closely related, and dwell within spheres of grimness, intolerance, tradition and persuasion, trespassing the Scandinavian scene, yet surely implementing the essence of the Swedish and, especially, Norwegian scene from the earlier nineties, as well as the one(s) from Germany and the East of Europe from 'back then'. Actually, like on the former material this band did create, this recording sort of defines a clear identity that is both based on tradition, and spawn from own ideas. In general, the stuff is fast and energetic, with a raw production, melodious rhythms, and vocals that are not that uncommon in the East of New Arabia, sorry, Europe. Besides the faster, energetic parts, all songs (except for those classic ones) contain some slower excerpts too, which are a grandiose counterbalance to the fierceness of the heavier pieces, yet without lacking power and hatred. But in any case, the victorious, warlike and epic attitude gets maintained, remains, prevails.
No tolerance, no mercy, no regret. Purity, honesty, pride and honour! Hail! Once again Demonic Slaughter convince!