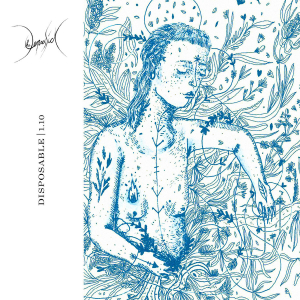 Mexico's horde The Depressick may not be that well-known, despite some sweet recordings in the past, including some splits and a full length in 2017 (Carcinoma, which was released via China's Pest Productions). Hugely underestimated was their EP Disposable │ 1.10, initially independently and unphysically released at the end of 2019's beautiful springtime. Polish narcotica brigade Depressive Black Ambient Records has re-issued this four-piece mini-album about one year after the original release, both digitally as well as on compact disc (pro-CDr); very limited, evidently.
Disposable │ 1.10 was already recorded in June and July 2018 at the Cronophonia Studio in Mexico's capital city Mexico City (really) and consists of four tracks. The four of them have a total running time of about twenty-three minutes and were recorded by a choir consisting of Old Skull, S11, Sjuk and Detestas, with some guest assistance as well. Recording and mix were taken care of by Julio Cain (he worked with acts like Black Hate or Tranatopsy as well); mastering duties are courtesy of Alex Menabde (think Psychonaut 4 or Moloch).
Expect a pure sonic definition of 'Black Urban Expression' when listening to these disposable creations. Disposable 1.11, the short (2:09) opener, makes you feel unavailable, futile and otiose somehow. This introduction actually stands for a mixture of bleak, colourless synth lines, ultimately heavy-weighted and oppressive, with some samples, both background sounds and spoken word fragments especially. Don't know what they deal with, but I am pretty sure that is not about happiness, joy and contentment.
Disposable 1.12 (eleven minutes of length) is another story. It starts with an acoustic / semi-acoustic introduction, immediately balancing over to a mostly depressing form of Post-Rock / Black Gaze / Sad Folk stuff, with acoustic and electric guitars as basement for the spine-melody, and supported by slowly pounding drum patterns and down-tuned bass and rhythm guitars. At almost three minutes, the whole organically evolves into some breath-taking, melancholic, even self-mutilative experience, first introvert and doomy, and then, after four minutes, with anger, fury and anguish. Mexico does have quite some exquisite DSBM bands, and with Disposable 1.12, The Depressick penetrate themselves within that fine list of notorious acts. It has everything 'predictable': floating tremolo leads, snuffy rhythms, tortured screams and painful yells, repetitive and hypnotic melodies, and so on. But hey, the core of the scene does not ask for renewing progression, and because this material focuses on the essence, the core of the scene, with a masterfully song writing and ditto execution, this just sounds oh so yummy. But there's more. At seven minutes, everything slows down once again, and what comes next is another integer instrumental piece of Post / Gaze-alike introverted and melancholic ambience, with somewhat jazzy bass lines and drum patterns, hypnotic rhythm guitars and floating leads. In a way, there is a minimalistic performance, because of the diminutive play, but that surely strengthens the introspective and mirthless approach.
An introduction at least as dreary and moody is the opening sequence of Disposable 1.13 (6:36), also build around Americana / Sad Folk oriented strings and softly rumbling percussion, evolving towards a stronger conviction, after about two minutes, with the addition of prominent bass lines and fiercer drum patterns. At about half of the song, the DSBM approach takes over the leading role once more, drenching the whole in masochistically negative, escapist, morose proportions. Self-harm in aural form, that balance in between grief and iniquity, gloom and disgust, it gets expressed with a surefooted, somehow doleful attitude.
This four-tracker ends with the shorter elegy Vacant Place (3:40), which opens with a small spoken fragment – no idea where it comes from, but it focuses on our replaceability and volatility. We are all disposable; so is (wo)man's life. Soon a classical piece of (grand) piano (by Detestas) brings a very elegant yet sober – and at the same time enrichening – melody, eventually joined by another vocal sample. Bu the focus lies on the down-tuned integrity of the piano, adding a sentimental yet still combative dimension.
The total lack of positivism, merriment or resignation (though, the latter might overwhelm all other emotions for sure) characterises all material on Depressive Black Ambient Records, and with The Depressick's Disposable │ 1.10 that story of anti-zeal or inherent non-ambition continues that airless, inanimate trend. The pleasure of an unpleasant existence overwhelms and convinces…
https://www.depressiveblackambient.pl/p/the-depressick_50.html
https://thedepressick.bandcamp.com/album/disposable-110