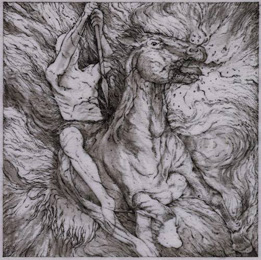 Devouring Star are a pretty young and quite mysterious horde from Finland, which I knew from one single demo only. Now they come up with a studio full album, consisting of five pretty lengthy compositions (i.e. lasting in between five and ten minutes), written for this release exclusively (meaning: these tracks were not on the 2014-demo).
The album opens with Sanctified Decomposition, which starts with a long-stretched, minimal-noisy introduction, but after two minutes it all turns into Utter Morbidity and Obscurity. Slowly pounding rhythms, dissonant leads, brutal mammoth-riffs and a throat right from the Netherworlds show a first glimpse. But then again, after two more minutes, the slow-paced and abyssal darkness gets replaced but a sudden blast-explosion, creatively asphyxiating the aural way. Damn, what a monumental violence defined by sonic craftsmanship! Damn yeah, this opener shows persuasion, creativity and quality, and it keeps the listener alert whole the time. With Decayed Son Of Earth, Devouring Star go even further with their harshness and their taking-no-prisoners-attitude. Once again, an unstoppable rhythm section, discordant anti-melodies and a venomous throat are melt into a gruesome, beautifully ugly aural experience that makes brave people like undersigned so happy. This is the reason why I do (almost) anything to promote the worldwide scene! Besides, coming back on this second song specifically: what about that fabulous last part, once again turning back to the colossal, spine-molesting power of Doom? The album goes on within this specific trend, and it ends with the title track, that is basically comparable to the opening track for being pretty lengthy, and for showing such a grandiose equilibrium in between speed and slowness, in between aggression and even more aggression, in between craftsmanship and creativity.
There is no objection, I think, to mention stuff à la Deathspell Omega, Antaeus, Adversarial, Mitochondrion, Ævangelist, Portal, Wormreich, Bleeding Fist, Funeral Mist or Fides Inversa. But, at the same time, this project has a very own, characteristic approach (though I cannot fully explain the details).
Available on CD-format, vinyl (both black and splatter vinyl), tape and (yeah, we're into the 21st century) the digital way.