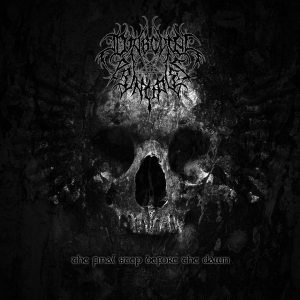 Album Title:
The Final Step Before The Dawn
Greek outfit Diabolical Principles is a project by members of e.g. Mortuus Caelum and Divine Blasphemy. Throughout the past decade, they released a handful of stuff, and now they return with the third full length, which is called The Final Step Before The Dawn. The material was produced, engineered, mixed and mastered at the Abyssal Studio and Studio 5 by main members Gareth and Geegor, and the result lasts for sixty two (!) minutes.
I can, and will, be very concise about this – but this does not, never, necessarily mean something inappropriate at all. Diabolical Principles bring mainly fast, pushing-forward, energetic, relentless yet still melodic Blaspheme Black Metal with a distinct Second Wave attitude. The latter includes both melodious execution, sound and atmosphere. Nothing wrong with that, or is it? Well, actually there indeed is nothing, or not much, negative to say, because, besides the lack of renewal, everything is quite cool.
Okay, let's, for example, take a look (read: listen) to the opening track Eternal Shades. Does it renew? No, it does not. Does it surprise? Actually, not at all. Is it a waste of time then again? And here it comes: NO!!! Despite lacking of an own face, it might be one of those tracks that does the hardcore fan remind of the purity, the essence of the scene. And then comes The Sixtythree, the next piece, strengthening my opinion: this stuff indeed is the pure essence of the scene's stability.
I know it's quite artificial and strange, but I wanted to have this review limited to just some phrases. That is not easy if you want to focus on the superior execution and song writing despite a certain nihilistic, traditional approach. So let's skip the crap and join mxxxxxxxxxxxxxxx: see score; it's my opinion as reviewer; yours can be different (but I do not actually care)… Take notice that Diabolical Principles perform that what defines the initial basics, with sometimes that little more in consequence. Most of the compositions, especially the longer ones, combine tradition and evidence with that unspeakable little-more, and the open-minded reader / fan will adore this. That's a promise.