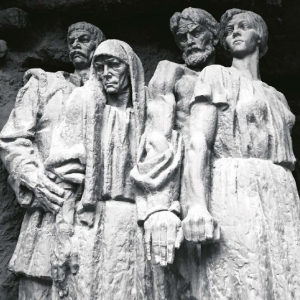 Album Title:
White Roses In Bloom In Kyiv
Release Date:
Monday, September 21, 2015
Being a huge fan of Martial Industrial, no matter whether it's political inspired or not, and no matter whether the focus lies of epic constructions, Dark Wave-oriented obscurity, militant war-propaganda or Neo-Folk / Neo-Classical inspired atmospheres, I was quite surprised that I didn't cross the path of Ukrainian label Old Captain before. But that is about to gonna change as from now on – that's a promise to myself! Reason is that this label did sign Die Weisse Rose (they're named after a pacifistic resistance movement during WWII). But it goes further, for Old Captain do house quite some interesting acts within the Ambient / Drone scene too at the one hand, and Death Industrial / Noise outfits at the other. And I wasn't involved. So I'll make it up…
This review deals with a live recording by Die Weisse Rose. White Roses In Bloom In Kyiv was recorded in Kiev, Ukraine, on May 17th 2015 by band leader Thomas Bøjden, Gary Carey (of Joy Of Life fame), and :of the wand and the moon: / Arrowwood / Sonne Hagal's Kim Larsen. It was a performance during The Honour Of Silence tour Die Weisse Rose did with legendary Death In June. The recorded result gets released on CD via Old Captain in an edition of 200 copies.
After the introduction, the experience starts with A Martyrium Of White Roses (taken from their debut Okzidentalisches Grammophon or the same-titled album that was originally released on mighty Cold Meat Industry), and immediately it impresses. Truly mesmerizing keyboards lines and supreme martial percussions get injected with invocative vocals and several samples. More sampling have been used for At The Doorsteps Of Our Temple, which is mainly based on a melancholic piano lead, finely ending in a Gregorian chant. Truly impressive is the version of Unser Leben Geht Dahin Wie Ein Geschwätz (also from Okzidentalisches Grammophon), especially thanks to the fabulous tribal drums and percussions, as well as the many additional layers: wind bells, several layers of darkened yet quite uplifting synths, and the narrative, ranting voice of Thomas. As The Last Of The Petals Are Shattered is one of the most impressive post-apocalyptic creations, but I am at least as excited by Immer Weiter Und Weiter and Treue Um Treue, which must be new compositions, I think (despite the latter being the name of a previous Die Weisse Rose album). It's quite unique how Thomas and his crew are able to create such a magic atmosphere with so few means. Пливе Кача too is an unknown composition, and quite different, but truly unique. Echoing female voices, harmonium (I guess) and organ (I guess) are intertwined in a mostly cold yet imaginary aural experience, expounding the fine border in between Classical, Martial, Folk and Wave Music.
What if Blood Axis would cover an Arditi song, or Les Joyaux De La Princesse re-interpreting Death In June (the real fans must notice the irony…; long live Östenbräun…).
This is a creation by a project with a much appreciated live reputation, and now it has been registered officially. Once again, 200 copies are available, so don't hesitate…