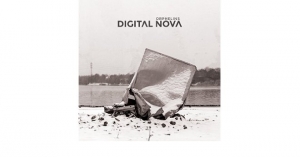 I had not heard of Digital Nova before, to be honest, but this Marseille, France-based act already released a full length before: Alpha Omega, released in 2013. And what's more, there was an EP in 2010, so this band is not exactly a newcomer within the French scene. They also gained a modest yet not unimportant name live on stage, sharing those stages with acts such as Mass Hysteria, AqME or Tagada Jones. And now this four-piece (drummer Stéphanie Silmar, vocalist François Le Goazigo, bassist Mathieu Dubois, and guitarist Jean Baptiste Caysac) return with the sophomore full length studio album, called Orphelins (which means 'orphans'). It's an eleven-tracker that lasts for about forty minutes, and it gets released via Rock-label NFFP Records (Zephyr 21, Intenable, Baxter Fly, Ekinox etc.), being heavily promoted by Solstice Promotion (Créatures, Ayin Aleph, Clouds Of Dementia).
So, Orphelins starts quite enthralling. The first song, Esclave Et Maître ('slave and master'), opens with a very short yet fine and atmospheric intro, before showing the true face behind Digital Nova's mask. And it's a scarred face for sure! The band goes on with their firm and little groovy combination of Punk, Modern and Progressive Rock and Industrial Metal. Like it was the case with the former album, Orphelins is injected with synthetic-electronic elements, whole of the time. It means that the quite intense melodies, based on heavy guitar riffing, violent batteries (Stéphanie truly is a great drummer!) and energetic, pounding bass rhythms, gets supported by modernistic electronic pulses. But the keyboards add another element too, being quite some floating-atmospheric passages, creating a semi-divine sphere. And it might be quite crazy, but therefor the result might be compared to the older works of Faith No More indeed!
The details have been worked out quite professionally, as well as intensively. Melodious chapters are interrupted by crafted guitar solos, colossal outbursts, sudden breaks, spherical interludes, technical craftsmanship and much more. Sometimes the whole grooves, then again it sounds violent and powerful, or rather integer once in a while. And the very same variation goes for the diverse vocal timbres. Most of the time, François sort of raps, somewhat Whitecore Hip Hop styled. Together with the French lyrics, it's a combination that deeply characterises this band. But more than once, other vocal approaches get used: raging screams, yells, whispers, spoken words, chants, quite a diversity it is.
This specific genre is growing a lot, and especially the French scene seems to play an important role for the worldwide progression of this Rap Rock Metal Groove stuff (cf. No One Is Innocent, Mass Hysteria etc.). Digital Nova is, and will remain, a huge name, and they succeed to maintain their own identity for sure.