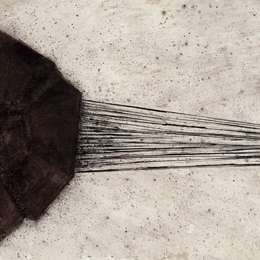 French act Dirge is about to celebrate its twentieth anniversary (!). A first result of this upcoming party is the release of the band's sixth album, Hyperion, which was recorded and mixed by original member Marc T., and mastered by Nicolas Dick (known as well from Kill The Thrill, and collaborating on this album as guest too, by the way, besides Lycia's Tara Vanflower and Milena Rousseau of Miroda-fame). For this album, Marc partly reshaped the line-up (once again), and once more, the stylistic approach evolved as well. In the earliest years, for example, Dirge brought a kind of so-called Psycho-Grind, comparable to projects like Scorn, Godflesh or Pitch Shifter. As from this century, the guitar-driven focus got stronger, replacing the noisy and electronic influences by massive guitar-patterns. Slowly on, progressive and psychedelic elements penetrated the whole, and with this permanently experimenting evolution, each single Dirge-release brought something else, something new, yet always with a recognizable sound. And this path simply continues with Hyperion, which has a total running time of sixty two minutes for six tracks (in between eight and seventeen minutes of length each).
Hyperion stands for a massive, colossal, gargantuan, monolithic (need some more alternatives?) version of Sludge and Post-Sludge, seen from a most atmospheric spectral, and at the same time, taken by a mostly heavy, suffocative and battering energy. The Doom / Post-Core is, at the same time, icy cold and bubble-bathy hot (hihi), and the intelligent addition of dissonant breaks (not of the über-technical Neo-Prog kind, for Heaven-and-Hell's sake!), unusual structural changes and impressing / oppressing scala on aural emotions is really beyond, far beyond, the average. Dirge's Music is unique in different aspects, and one-of-a-kind for sure.
To experience an album that so intelligently balances in between the extremes of heaviness and atmosphere, power and tranquillity, and anger versus integrity, is quasi-unheard. I really do not know that much bands that are capable to transform an industrialised sound into an organic aural pleasure. Neither can I sum up much bands or projects that are able to translate creepy minimalism into a post-dimensional sonic experience so beautifully. Anyway, the noisy, distorted production fits perfectly to the mesmerizing spirit of this album, and when the band comes up with some bombastic orchestrations once in a while (listen for example to that majestic introduction to Hyperion Under Glass, an epic with a magnificent funereal strength, especially at the final part of the s(tr)ong), one must admit the magnificence of the conceptual ideas elaborated by these Frenchmen.
Not a typifying Debemur Morti-act, but certainly one of the better ones (and since I am a 'fan' of this label, and their past roster, this isn't but a huge compliment!)…