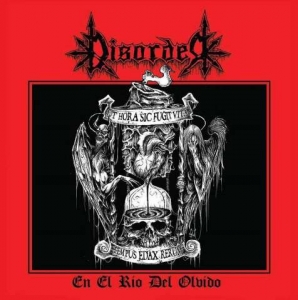 There are many bands called Disorder, but this review deals with the one from El Salvador, a small country which people do not easily refer to Extreme Metal. This project was formed somewhere half of the nineties, but after their debut album Voces De La Tumba, they did split up. Eventually, frontman Jorge 'Morbid' Montessino (you might certainly know him from Conceived By Hate) decided to reform his old project a couple of years ago, and finally he returns with the second full album, created by himself and pretty young vocalist Kevin 'Hellbastard' Orellano (since a couple of years also active in Conceived By Hate).
With assistance of Iosif Najarro (indeed, also from the Conceived By Hate-line-up) on drums, and guest performances by great Costa Rican vocalist Ronald 'Master Butcher' Jimenez (think: Insepulto, Necrogod, Mummified etc.) and Julio Orellano (the older brother of Hellbastard), the duo recorded this album with no one else but Javier Félez, known from hundreds of bands, such as Teitanblood, Nominon, Insepulto, Decapitated Christ or, evidently, Conceived By Hate. With inclusion of both bonus tracks, the CD-version lasts for forty seven minutes, and it consists of both old and new material. And with talking about the older stuff, well, there are some re-recorded versions of songs from the band's first era of existence.
The whole album breathes tradition and, at the same time, timelessness, by focusing on the Old School, yet without ignoring to trespass the new age either. Yet let's be serious, and admit the fact that Disorder are mainly performing that kind of nice-smelling sh*t that did, and still does, satisfy the eardrums of undersigned and many same-minded black-heads. The guitar solos, for example, are truly rooted within the vein of the eighties Speed / Black / Thrash / Death current, the rhythm section is both old schooled and old styled, and the vocals purify the essence of evilness, grimness and darkness. Okay, there surely is a lack of originality (and hey: who the f*ck minds about that? I do not either!), and a lack of variation (which might be little more disturbing – though, seen the many changes in tempo and song structure it might not be a 'real problem'), but the purity of this performance sort of defines the essence of disordered creativity.
From time to time I do have a problem with the sound quality, which seems to be little too over-produced; yet then again, within the most thrashing or punky parts (cf. a composition like Maniaticos O Morir), this sound gets strengthened enormously, and positively, by this production. So forgive me my remarks, because it counts for just the minor parts on this album. And seen the overall quality…
A last remark: the new pieces and the re-interpretations of older stuff (some songs were originally written two decades ago) are still very coherent, and it goes way beyond the sound quality. Disorder have a specific sonic goal in mind and this gets maintained. Whether you like their stuff or not, you cannot but appreciate the coherence and mind-setting, can you.