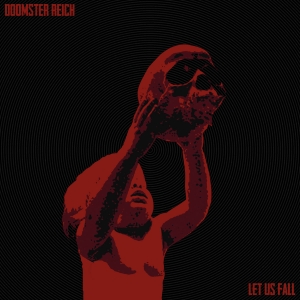 Release Date:
Sunday, November 13, 2016
Doomster Reich are an act from the city of Łódź (located in the centre of Poland, about 140 kilometres South-West of capital city Warsaw), which were formed in 2012. They did release a first album in 2014, called The League For Mental Distillation, which I wasn't that enormously enthusiastic about. Yet then again, I noticed a certain potentiality, despite leaving me unsatisfied. I did describe it like 'The intentions, the ideas, are interesting; the final execution, unfortunately, is not - or at least: not yet. I am sure Doomster Reich next effort will shock and shake the underworlds of Doom with no mercy! I am convinced they will succeed!' (see publishing date July 20th 2014, or just enter the band's name in 'search'). There were possibilities, and the band was transforming those into bigger ideas, but they didn't came to that wanted orgiastic highlight.
About one year and a couple of months later (late Autumn 2015), the band returned with a new studio recording, which was independently released, entitled Let Us Fall. I have no idea whether it did reach a 'huge' audience, but in 2016 The End Of Time Records, a smaller and quite unknown yet highly interesting Polish label with a modest yet quite qualitative roster, decided to have that material re-released decently, and they offered me a copy of that stuff. Could it excite me this time, or – well, let's check it out.
Actually, it deals with material that was recorded in the past, once again at the studio of producer Pawel Drozd. The digipack is quite simplistic, with a grandiose cover picture (believe me: it is as plain as it is 'deep'!) and just limited information (some lyrics, okay, but not an overdose on 'cool' pictures (puke puke puke) or whatever. The essence remains.
And as from the first time that I listened to this album (it's been released as an EP, yet the seven tracks last for about forty-four minutes), I could say that I was right: there was more to come! Okay, I am not about to say that Doomster Reich suddenly became a new revelation, but it's totally in the vein of the former release with as least as much persuasion, energy and joy. The band's own songs are impressive, and that is not just an empty statement. They draw their influences from the earliest Doom scene(s), with that rhythmic groove and stylistically incorrect attitude, but ain't that marvellous?! Indeed, that's what I thought too. Hidden Path, Come To My Kingdom, The World Must Die and so on; the stoned-laden and trippy elegance catches the listener with a disturbing, psychedelic experimental graciousness; but with the title track, which lasts for more than fifteen minutes, Doomster Reich"s uniqueness gets sort of highlighted. It is like a summary of the better things out of this band's catalogue, with those sublime drum patterns, fabulous leads, well-balanced bass lines and powerful rhythms – and hey, what about the voices (a you-like-or-you-do-not question). For sure this piece is like a bluesy beauty with the better injections from the band, all assembled into one great hymn.
The album also comes with some cover songs. Forever My Queen is like a logical decision, for Pentagram must be one of the most important influences on this Polish band's existence. And with those typifying vocals of Rasz, this (short) epic is like an anthem for the scene. Great bass riffing and guitar leads / solos too, by the way! One Mind by Saint Vitus, well… I am heavily devoted to these doomsters, but this cover performance is so full of emotions, honestly paying tribute to those masters, sorry, Masters (with capital 'M') of Doom – what a nice solo performance, by the way, by guitarist Markiz). Also the Bedemon cover Serpent Venom fits into the totality, and here too the fine guitar leads, fantastic bass melodies and excellent drum patterns need being mentioned.
So, I guess this newest album goes on in the vein of The League For Mental Distillation, with a comparable conviction by the performing members, a comparable sound quality, and a comparable, maybe even improved, song writing and ditto execution. Still I am not completely blown away, but once again I am convinced about the members' skills and wills.
And just FYI: in the meantime, the band recorded and released a short two-track EP via their Bandcamp-page, as well as a new full length, called Drug Magick (once again via The End Of Time Records, together with Aesthetic Death and Old Temple), which I will come back to very soon.