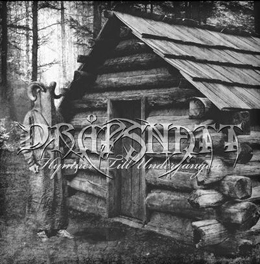 Dråpsnatt are a Swedish act that were formed almost one decade ago out of the ashes of Maleficium, i.e. by Narstrand (also in e.g. Sangre / Blodritual and Nivlhel) and Vinterfader. They recorded five albums in mean time, but the first two haven't been released. The first official release was in 2009 (I Denna Skog), followed by Hymner Till Undergången in 2010 and Skelepht in 2012; all of them, by the way, saw the light via defunct Frostcald Records.
I do not know whether Nordvis is about to re-release all of them, but at least they will re-issue Dråpsnatt's 2010-album Hymner Till Undergången on CD and, though very limited, on vinyl as well (250 copies, available as from the end of June).
Hymner Till Undergången brings the whole original release plus one additional song, making this re-edition clocking fifty four minutes. And it goes completely on in the vein of the band's first release on Frostcald (I Denna Skog). Opening track En Ensam Sol Går Ner brings a form of atmospheric, little symphonic and very melodic Black Metal à la earlier Dimmu Borgir, with slightly hysterical screams and some additional grunts, as well as clean vocals and choirs. It also brings bands like Arcturus, (later) Borknagar and Vintersorg to mind. Arvssynd is much faster in the beginning, and turns to the duo's characteristic semi-proggy melodies courtesy of Dråpsnatt. This might be the most convincing track the band ever did, with great atmospheric passages, sublime blasts, epic trem leads, and a multi-dimensional approach. There are a couple of other songs on this album that dwell within the very same convincing spheres, but there is pretty much variation in general. The band does not eschew to add integer excerpts based on keyboards, piano or acoustic guitars once in a while, medieval sounding intermezzos, progressive rhythms and structures, Folk-oriented pieces, or victorious, war-like outbursts. Overall, the stuff is pretty catchy, yet ingeniously constructed with the different hooks and the twisted amalgam of stylistic differentiations.
The bonus track, Juvret, serves as an indication of what the band is about to create for the (near) future. It isn't that differing, but I think it sounds little groovier and epic-powerful. But the typifying approach has not been replaced; the band sticks to their roots and that's something honourable. So let's impatiently await more material to come, especially if you like everything in between Arcturus and Vintersorg.