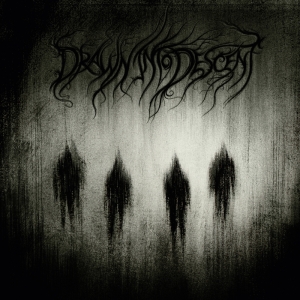 Release Date:
Monday, September 28, 2015
Drawn Into Descent are a new band from the city of Mechelen (Flemish part of Belgium), formed after the demise of Galgenveld. The latter was a promising band that didn't release but one single official thing, being a split with Howling Pain (from Chile) and III_-_III (from Chile as well, yet with Immortal Frost Productions' main man S. doing the vocals; the same guy who is currently in Ars Veneficium; check out the review for the split of this band with Finland's Azaghal, which was posted very recently on the site). But anyway, this review deals with the nameless (or is it self-called) debut by Drawn Into Descent.
I did see them playing live a couple of months ago (on a gig organised by Immortal Frost Productions, by the way), and they did truly impress me. You can check out my critics on the site on June 25th 2015's update, if you want to. Back then, the band was working on their debut album, and looking for a decent label to have their material signed to. I think it's sort of logic that S. offered this band this opportunity with his strongly-growing label.
This first Drawn Into Descent -album was recorded and mixed at the Fatsound Music studio and comes, once again, with very attractive booklet design by the hand and mind of Moornebheym. It lasts for forty six minutes and brings those pieces that I already could enjoy on that specific gig I just mentioned. That means aural interpretations of both Autumn and Winter, of both grief and desperation, of both integrity and the expression of it…
After the traditional introduction (pretty unnecessary, unfortunately, for lacking, totally lacking, of any surplus), Drawn Into Descent bring their definition of sonic despair and malignancy, starting off with Elude. This is the first of a couple of long-stretched, highly melodic (hey, 'blackgaze' is the right terminology once again, believe me!), raw and PostRock-like heavily rhythmic tracks that adorn the beauty of this material. Do not expect much originality, but prepare for quite some variation. And for sure the tempo-structures are quite a big example of the diversity. When coming back to that first song, for example, Elude, there is the slowly pounding-forward march-attitude that sort of overpowers the better part of the album. At the one hand it gets interspersed with more than a hand full of acoustic intermezzos (truly of a high-standard quality!!! – nicely floating into the next piece, Solitude), yet with a couple of blasting eruptions too. I do remember this contrast from their gig, but it is quite fine to notice that these guys are able to define this expression through this studio recorded way as well. Alcest, Agalloch, Heretoir and Lantlôs did come to mind, and they still do…
A surplus for sure is the grandiose sound quality, paying homage to each contributor. Besides the prominent presence of the trem riffing and little hysterious screams (as well as the [necessary] guitar solos and acoustic passages), I think the support of the bass lines (!), drum patterns and rhythm guitar riffing gets well expressed because of the professional mix. Often those elements are put to the backside, but in this case it's a surplus! And besides, the final result does fulfil my expectations after that 'memorable' evening when I saw these guys playing live on stage. And what I did find the ultimate highlight of their performance seems to be the best things on their album too, coming at the very end (though that isn't but a subjective opinion), being Pariah, which might be the most energetic piece of all, and Gallows, the most creative construction.