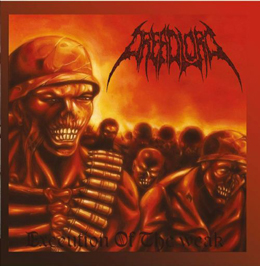 Release Date:
Monday, September 8, 2014
Casket Music/ Copro Records – Catch-up, part Three! (for details, see review David J. Caron)
This Copenhavn based Danish Death Metal act was originally founded in 2005 as an oldschool Death Metal band by guitarist Anders Nissen (formerly of Atobic and Concentus), drummer Christian Kaiser, and singer Christian Hansen, a line-up which, empowered by the addition of second guitarist Simon Springborg and bassist Thomas Gade, released its debut demo Shades Of Hiroshima in 2006. However, things were not optimal within the band, and at the verge of 2007 into 2008, the band's members decided to split and go their own ways.
During 2008 however, Nissen and Hansen hooked up with guitarist Christian Christiansen and drummer Pete Olsen, finding same-like thinking musical spirits. Regretfully, Hansen then had to cop out for personal reasons, making an early end to that second line-up of the band. And it might've been the end of Dreadlord, if it wasn't for the fact that the guitarists , inspired by that time by the likes of Nile, Dying Fetus, Cannibal Corpse, Suffocation, Origin and Bolt Thrower, felt the need to continue with a more brutal type of Death Metal...so they made a fresh start of things, recruiting one Matthias Junge as their lyricist/ vocalist. Olsen was quite unable to perform the kind of drumming needed for the more brutal style the band was heading for, so he left. A mutual friend then suggested that the band try out drummer Mads Lauridsen (formerly of emon Realm, Process, Panzerchrist and Konkhra, and currently also banging the skins with The Cleansing and Eldjudnir). At his audition, the latter found the others having similar musical tastes, so he joined at the spot! The band then did several shows with temporary bassist Thomas Fischer (ex-Kolera, and currently still with Defilementory and Apparatus), but eventually needed a permanent fixture of that position, and when Fischer suggested Mike Sabroe Nielsen, they guys auditioned and recruited him to do his debut show with the band at the 2012 Sick Fest.
It is however, without the aid of either of those two just mentioned, that the band recorded its debut full-length Execution Of The Weak at Starstruck Studio. With mastering done by the famed Tue Madsen at his Antfarm Studios, the album was originally slated for a November 2012 UK release. A release date which was subsequently delayed to Jan. 2013, and eventually to September 30. A lot of things however happened to the line-up in between and after. For starters, Lauridsen (whom needed some kind of severe "training") was temporarily replaced by Danny "Lyse" Jelsgaard (formerly of Illnath, Fairytale Abuse, Svartsot, Ravishing, Indoctrination, having played live drums with Sylvatica, Huldre, Heidra, Eldjudniir and Disintegrated, and currently also active in Satanic Assault Division and Poisoned Leaves). He returned in early 2013, but that same year he and Junge decided to jump ships and go do their thing in the band Gestapolis. So Lyse was called in again, and to replace Junge the band recruited Soren Christensen (of Poisoned Leaves, formerly of Die and Throne Of Flesh). For bass duties, one Chris Olsen was induced into the band after an audition which went beyond expectation. That's the situation so far, and I'm told that this line-up is in throws of creating the band's sophomore album, tentatively entitled Forever Lost.
Not being familiar with their new singer, I have no idea on how that dude possibly changed the vocal side of Dreadlord's music, but I'm sure the exhilarating intertwined guitar melodies will stay the same on future material. At (www.) facebook.com/Dreadlordband, you'll not only find a video for the debut album's opening track "Death Guaranty", but further audio for three more songs...a perfect introduction to what this band stands for. Darn long time ago since I came across anything this exciting, by the way. Perhaps our Death Metal specialist at Concrete Web would have a different opinion, but in my book the album deserves a place in my 2013 year-lists!