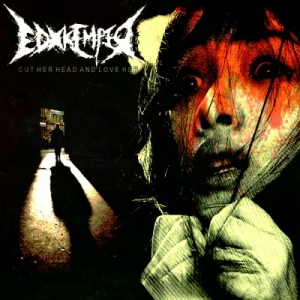 Album Title:
Cut Her Head And Love Her
Well, when you name your band after a pretty guy like Edmund Kemper, you probably do not need to expect songs of love and pink dreams. Edmund Kemper was, as you surely know, a Californian serial murderer, who dismembered his victims and who is accused as well for necrophilia and cannibalism. He committed his first murders at the age of fifteen (his grandparents), and after some years of collocation, he did at least eight facts in less than a year. This nice guy, also known as The Co-Ed Killer, has been 'a source of inspiration' for quite some Metal bands, such as Macabre, Gorefest, Church Of Misery amongst others, and now there's a Greek band, formed in 2013, which includes members of e.g. Jagernaut, Teknokrater and Hedvika, that is named after this sweet human person.
EdxKemper from Athens did record this EP during Spring 2015, and the result, which lasts for nine minutes, was mastered at the famous Unisound Studio by Dan Swanö himself (think: Demiurg, Avulsed, Misery Speaks, Shed The Skin, Gorath, Acheron, Revel In Flesh and many, many more). It gets released on CD in an edition of 500 copies, including a 4-page booklet, via Symbol Of Domination Productions, and there's a tape-version too, limited to 100 copies, released via VEX Microlab.
What this four-piece brings is a very traditional form of Brutal Death / Grindcore, expressed by quite short sonic outbursts (nine minutes, as said before, for ten tracks). There is a lot of energy within the execution, but a total lack of originality too. Brutal Truth, Nasum, Terrorizer, Insect Warfare, Rotten Sound, all of those might have been of influence. All of them are better, yet still not, for EdxKemper's performance might lack of an own face; it is at least as convincing and expressive as all comparisons I just mentioned.
So, with more of 'an own face' and with more variety (because I do search for that distinctive subtlety of high lights, and I couldn't find none), there might be more chances to 'break through'. I think EdxKemper do not disappoint, but they don't convince either. So let's give them the benefit of doubt for now…