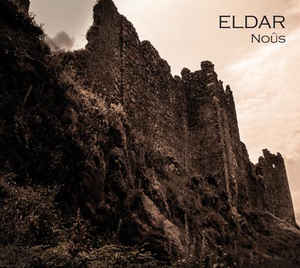 For more than a decade, Spanish duo Eldar gives us aural pleasure by their several recordings, especially released via SkullLine and, in a next phase, via Old Europa Café (of course I cannot but mention Cold Meat Industry either, can I?). There has been a permanent evolution, and the very same goes for this new full length, Noûs. The title cannot be seen as a literally translation of 'intelligence', as 'nous' means in Greek, yet rather as the Aristoteles-inherent philosophical vision on intuitive knowledge (as far as I comprehend it), or as 'the intellectual essences and immediate knowledge of thing', let's say, out first impression of our random experiences. Being so low-profiled in psychological approach, I think Eldar do a great thing by expressing quite an original philosophical encore on thematic subjects.
This newest effort was created by Marc Marinee and Merce Spica at the Barcelona-based Oxid Studio, being released in an edition of 300 copies on CD. The ten compositions have a total running time of almost fifty minutes, and the artwork, being integer and sober, based on photographical elegance, acts like the perfect visual translation of what the sonic essence stands for.
And that 'sonic essence', well, that's something that you will like, or you will not. But a message be offered, for here too you have to experience the whole package, being the totality of atmosphere, visual art, lyrical approach, sound quality, philosophical background and, of course, the music itself. And when talking about the latter, I'm glad to represent you what follows next.
Noûs brings a step-forward-edition of the past, mingling Gothic-oriented elements of Electro-Pop (especially within the first half of the album) with New Wave and Cold Wave oriented hints and some Electro-Ambient atmospheres (with the second half being much more obscure and oppressive; and talking about Ambient, just one word: Paradeigma…!...). About each track has subtle elements that are quite hypnotic, floating, even cosmic, yet the focus lies on soft electronic beating structures, oppressing atmospheres, sensual melodies, discordant rhythms, tribal injections (listen to Kairos, for example, to hear what I mean), and the characteristic voices of both Marc Merinee and Merce Spica. In general, the whole is quite up-tempo and energetic, yet not of the hyper-kinetic kind, yet at least danceable, if this description does not scare you. Personally I like it for the whole sort of turned rather towards the semi-esoteric and mesmerizing trends à la Sui Generis Umbra or the (legendary) Demonix project; and what about the mystic beauty, almost divine, in a piece like Anatema?...
I'd like to add something about the sound quality. This one is pretty clinical and up-polished, but it does not irritate for being so über-decent. Normally I would go nuts. I guess it's because of the somewhat neo-classical, sometimes even martial heart that this well-balanced mixture gets away with this flawless and impeccable production. Majestic hymns like Semaion aren't but an example…