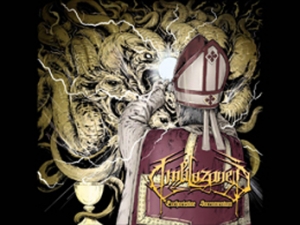 Release Date:
Tuesday, September 2, 2014
Emblazoned are an 'old' American act, finally coming up with their debut full length. You're welcome…
Eucharistiae Sacramentum stands for half an hour of fast, energetic, rhythmic, tight and solid War / Death Metal of the 'timeless' kind (i.e. based on tradition without being retro, and modern without being progressive), including some hints of Black Metal (especially when it comes to the sphere) and Old School Morbid Doom-Death Metal.
This might be my shortest review ever, but what else can I say. The quality is not superb, yet surely not beneath average either. The sound is great: rough and somewhat muddy, like the Swedish scene in its glory days. The performance / members' capacities / professionalism of the band is skilled, with persuasion and craftsmanship. Even the lay-out is all right. Everything truly fits. Yet still it cannot totally impress me, for I do miss that little more – an identity, a revelation, a surprise. Yet once again: no disappointment either!
Hey, I just had a mostly weird, yet fitting revelation: Emblazoned's Death Metal has nothing to do with the Swedish Death Metal scene, yet it reminds me to the Swedish Black-scene, without being Black Metal-based at all. Isn't that a weird conclusion? I am sure it is, but with tracks like Fatherless Predecessor or Wolven Shroud you'll understand…
…but no one can deny the fine compositions, the great quality of those songs either…
Fans of Belphegor, God Dethroned, Arkhon Infaustus, Incantation and Panzerchrist might be interested…