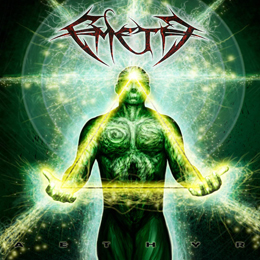 Release Date:
Monday, September 15, 2014
It's been long, way too long, but Belgian outfit Emeth finally return with their newest (fourth) full length, after 2008's Telesis (released via Minnesota's Brutal Bands; are they still active – to my knowledge they didn't release anything anymore in more than a year?). Undersigned was quite enthusiastic with that former Emeth-album (surely the band's strongest release to date). Now Emeth did sign to Dave Rotten's Xtreem Music (2014 seems to be a fabulous year for this Spanish label, with tens of highly appreciable and acceptable releases), and after such a long break, Aethyr will please those who were impatiently waiting and craving.
Aethyr was recorded by original member Matty Dupont (think Aborted or Agathocles!) and a completely new yet experienced / notorious line-up. The album lasts for forty four minutes and performs extremely brutal and skull-crushing Blast-Death Metal. One of the characteristics of this band is the fabulous technical approach, flirting at the edge of schizophrenia and psychopathy. All songs, with exception of the instrumental intermezzo Lama Sabachtani, are based on monstrous drum patterns (with loads of double bass drum attacks), piercing leads, sledgehammering rhythm guitars and bass lines, and guttural growls. But thanks to quite some breaks and tempo-changes, these frenzy compositions maintain to stay human (though… what's in a name). There are even several slower passages, which makes the whole little easier to digest. Well, actually 'easy' isn't an appropriate description, for it needs some endurance and perseverance to get through this sonic assault. But those who get through will be orgiastically satisfied (or ready to get deported to some mental asylum…).
Highly recommended if you like Hate Eternal, Nile, Origin, (early) Cryptopsy, Decrepit Birth, Cattle Decapitation, Hour Of Penance, Obscura or Gorguts.