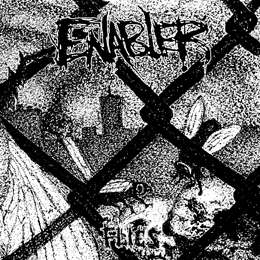 There's not a lot of factual info to be found about this Hardcore-Punk/ Metal crossover band hailing from Milwaukee, WI, and the story related below is therefore a concoction of my own.
As far as I can gather, the band was put together in later 2009 by one Jeff Lohrber (lead singer/ rhythm guitarist) when his previous, very short-lived, band (name unknown, released a 3-track demo entitled Savior For A Fallen Hero in February 2009) came to rest (asserted from the fact that Enabler did its first gigs in January of 2010). Lohrber being the main (or only) songwriter, that preceding band already played several of he songs which would later become Enabler's own. Sporting a prolific songwriter, the band (in a line-up comprising also bassist/ backing singer Bubba Nitz, drummer Brian Serzynski, and guitarist Tom Needham) soon enough foud itself in a studio with recording engineer Shane Hotchstetter, wit as result the release through the small imprints Fuck City and Halo Of Flies of the band's debut EP Eden Sank To Grief (issued on cassette & 12-inch EP, both long since sold out). With Hochstetter again behind the knobs, and a new guitarist in Ben Willcommen the band also recorded its 5-track EP War Begins With You (one of the tracks being a cover of Beastie Boys' "Heart Attack Man"), released on 7-inch and cassette through Volatile Recordings and Sacred Plague Records in September 2010. Creator-Destructor Records then apparently took a shining to the band, and re-released the band's two first EPs on a compilation entitled Year One, in May 2011.
With releases increasing the band's amount of live shows (43 in 2010, 62 in 2011), and having to switch second guitarists again (enter one Logan Kelly, at least temporarily) Enabler apparently found less time to enter the studio to record new material, although they did manage to record 4 new songs for a split with Ambassador Gun (released through Second Plague in June 2011, it was recorded with one Tim Seiler). 2011 also saw a major shift in the line-up, with the rhythm section departing to be replaced by (current) bassist Amanda Daniels and drummer Andy Hurley, who did their debut on the split 7-inch EP with Yauta (recorded in Sept. 2010, it was released by Burnt Bridges in January 2012, and again found Willcommen and Hotchstetter as part of the team). The same month also saw the release (through Halo Of Flies) of a split 7-inch with Drainland. 2012 would turn out to be a top year (so far) for the band, which not only played a stunning 85 shows (in spite of another line-up change, with Greg Thomas taking over from Willcommen) but also released its debut "full-length" All Hail The Void (only 12 tracks, and considering the average length of Enabler songs...-see also later) in a collaboration between Creator-Destructor, Halo Of Flies, and Southern Lord in July 2012. Prior to the release (June), Southern Lord put the band on a tour with Poison Idea, Burning Love, The Secret, Martyrdod and Powertrip, and used the album's track "Funeral Dirge" on a double 7-inch EP entitled Southern Lord Tour 2012.
Another line-up change ensued, with Eric Dunn entering the fold on lead guitar, and the drum seat being taken over by Dave Mann, and in that set-up the band left the US for a first time for a European tour (which included a visit to Belgium at Brussel's Magazin4) during February and March 2013, in support of Rotten Sound and Martyrdod. The same line-up also recorded the April released EP Shift Of Redemption through Think Fast! Records (I found no further details on the EP, except that it was offered for free download, as part of the 12-year anniversary of the label – check the "News" section of the band's website (www.) enablerband.com), and the new 6-track EP Flies.
Recorded in two spur-of-the-moment recording sessions in Minneapolis and Australia (the band was there on tour with Urns, in early July) earlier this year, the EP is a perfect sample of what the band stands for: a compelling mixture of Crust, Punk, and Hardcore, embellished with catchy yet gloomy melodies (that part being the Metal infusion)...the whole topped off with somewhat different aggressive vocals (they're more like a shout, than a scream) For the first time, the band did a re-take on older material, remaking the pre-Enabler track "What A Meaningless Live To Live" (on the aforementioned demo) into the current "Meaningless Life". The guys also did an explosive cover of Sepultura's "Arise". For your listening sessions, go to the "Listen" section of the band's website (you need a sufficiently recent browser to be able to activate the player, though) or go to the band's Bandcamp page (http://) enablerbandcamp.com. Lovers of the harder styles of Crossover, be warned: this band has a way of encrusting itself into your brains, to the point of wanting to own the band's music in its original formats of release (regrettably, most of it has long since been sold out...but it's all still available through download). At the moment of checking, the new EP (which has a mere length of only 13 ½ minutes...) is still available on CD...but it'll have you wanting for more, for certain!