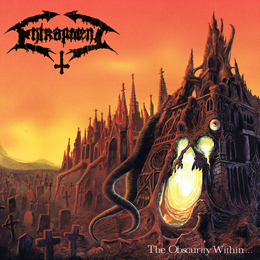 The Obscurity Within… is the first full length by Dutch horde Entrapment. The band's demos and 7"EP's were sold out very quickly, but this debut will, of course, appear in a much larger edition.
Entrapment bring the kind of Old School Death Metal the Netherlands are known for since Death Metal became a concept, a statement, at least when it comes to power and heaviness. Not that surprising for this band consists of (current / former / session) members of e.g. Katafalk, Massive Assault of God Dethroned. But Entrapment go further than 'just that' (see below).
Though, The Obscurity Within… starts very calm: grand piano, violin, cello, with spoken words (excerpt taken from???), but after a little while: Death Terror, the Dutch Way!
What strikes me as from the very first moment is the sound: eighties-inspired, Swedish-oriented rather than from Holland. Nothing wrong with that, of course; why should it; just a (nice) surprise.
Another remarkable element: the general approach. As mentioned before, Entrapment are HEAVY, with courtesy of the Netherlands, but this band implements elements from the early Swedish scene specifically, and the German and American scene as well, yet less inherent than the Swedish one. That's somewhat strange, for Holland developed an own sound during the years. But…! It can't be misunderstood: this is of a superior quality, going for both song writing as effective performance.
A raw Nihilist-meet-Unleashed-steak, drenched in Dutch sauce, very taste for those who like their meat blood-dripping…