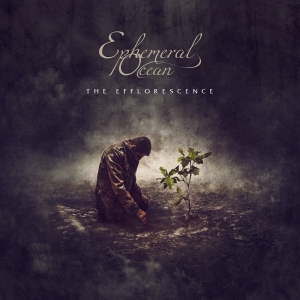 Release Date:
Monday, November 30, 2015
Moscow-based Ephemeral Ocean are quite a young band, formed in 2013. In April 2014 the band self-released a demonstrational MCD / EP, Honour In The Mask, and after some line-up changes, they did enter the studio again to record their debut full length. The result, by the way, was mixed and mastered at the famous Priority Recording Studio by nobody else but Esoteric's Greg Chandler (!). The album was (is) called The Efflorescence, and it got released by two of the greatest Russian labels, Frozen Light and Moscow Funeral League.
The Efflorescence has a total running time of forty minutes. The album stands for a traditional, and therefore highly melodic (in this case even extremely melodic, and then I am referring to the focus on dual guitar leads and tremolo riffing) form of Doom-Death from the old school. A mixture of My Dying Bride, Evadne, Faal, Anathema, Evoken, Monolithe, Forest Stream and so on, that's the direction to follow. There is quite some variation, both vocally and instrumentally, as well as within composition structure and tempo. A few passages are rather grooving, some quite depressive, then again modernised or at least modestly progressive (especially within the more experimental excerpts), yet the basics remain rooted within the tradition of the early-nineties' scene.
I know that the next phrase is subjective, but I did expect more, much more, from this release. It's not that I get bored by The Efflorescence, but each time I listened to it, I was waiting for something that never came. Something impressive, something distinctive, something special would have been fine, for the overall result sounds way too flat, too superficial, too safe. Okay, my expectations were (too) high, seen the labels involved, yet anyhow, this album lacks of that little more. The craftsmanship is all right, but the song writing gasps for fresher air (or maybe, on the contrary, more smoggy nebulae).