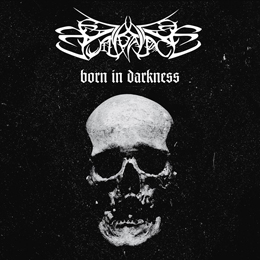 Release Date:
Wednesday, December 21, 2011
Evil Palace hail from Ukraine and are a side-project of Doom / Death / Black act Dusk Of Eternity (multi-instrumentalist / music composer Wolfheart, lyricist / vocalist Sid and session bass player Astaroth are part of Dusk Of Eternity). Born In Darkness is the sole record done till now by Evil Palace (and maybe there won't be another one anymore???), and it was released and distributed by the great Belgian label Immortal Frost Productions.
The eight songs on Born In Darkness last for more than fifty minutes and the stuff convinces me as from the intro on (which is called Black Ritual, by the way, and bringing a cold-meat-industrial piece of esoteric, occult Ambient-Industrial à la In Slaughter Natives and the likes). As from Salvation on, Born In Darkness brings a symphonic variant on grim Black Metal. With 'symphonic' I am especially referring to the bombastic sound and the use of grotesque keyboard passages. Sirius, Limbonic Art and (early) Tidfall aren't but a couple of references that just slip my mind. The tempo is mainly fast and energetic, and all pieces combine melody (and I do really mean it the most melodious way) with somewhat dissonant counterparts. Besides higher mentioned bands, I think Vesania must be a reference too, especially when thinking about the great variation, and even Finnugor, Quintessence Mystica or Luna Ad Noctum caress one or another synapsis in my peaceful brain. And with a 'track' like Fuck You God I can even hear a hint of earlier Diabolos Rising, Aborym or Diabolicum.
As a fan of the darkest regions within the Ambient / Industrial genres as well, I cannot but mention the outro Prophecy too. Here I go once again: Prophecy! So, I just did. No, seriously, it's the most perfect ending for a sublime album, and let's prey, err, pray these guys will have a next effort under this moniker in a near future!
With exception of one detail, I can be positive about everything: production (rough but pleasant), song writing and performance, atmosphere; even the artwork (once again done by Moornebheym, a privileged partner for Immortal Frost's roster). That minor point might be the drum computer, which is truly exaggerating from time to time. Sorry, I was just searching for some negative energy…