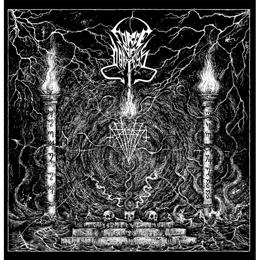 Album Title:
Absolute Verb Of Chaos And Darkness
With exceptions of the three Guyanan countries, I do have material from bands from each country in South America, more than often being superb stuff. I am not about to make a list of each country (you know that some of the protagonists hail from Brazil, Peru, Argentina or Colombia), but the scene from Chile has always been of highly influential importance too, both in the past as it still is now. One of the most interesting bands from that country is three-piece Force Of Darkness, formed more than a decade ago. They had two nice (though, opinions do differ) full lengths and some other stuff (demos, EP's, splits), but as from 2010 there wasn't that much 'activity'. Okay, Force Of Darkness compiled their earliest demos (under the moniker of ReHELLsals), and last year there was a vinyl-EP (the self-released Creations From Oscurity – mind the absence of the 'b'). And now, finally, we can enjoy new stuff.
Absolute Verb Of Chaos And Darkness was originally released in February 2014 via Iron Pegasus Records, though being on vinyl only (12"EP), and Hells Headbangers do release the very same material on CD right now. It brings eight tracks that last for eighteen minutes only. After the short and untitled, cacophonous and noisy intro, Force Of Darkness bring blasphemous and unholy Black / Death Metal in the vein of the First Wave Old School, at least as obscure and occult as many bands did back then. The Thrash-edged and necrotic stuff, however, does not sound corny, vapid or passé; on the contrary, this stuff is the perfect bridge in between the Eighties and the Nowadays. Evil and merciless, nasty and uncompromising, unpolished and malicious, Absolute Verb Of Chaos And Darkness is one of the best releases within this specific sub-genre (and there is quite some revival going on, so it does mean something!).
For fans of: Profanatica, Sarcofago, Vulcano, Mystifier, Nifelheim, Sodom, Bathory and Demoncy… Short yet right-in-the-face! Now awaiting a full album!!!