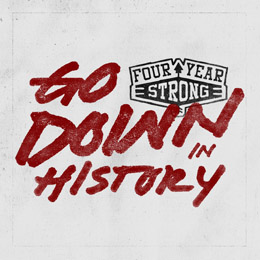 Ahum...it would appear that it's but a good thing, that I always check into a band's past when first coming across it. You see, goin' on just this latest release, I would've categorized Four Year Strong (abbreviated to FYS from now on) as being an up-tempo "Easycore" act, and looked for its previous material accordingly. But it so happens, that musically speaking, FYS has been somewhat fickle in the past, say even somewhat unreliable to a certain degree.
You see, in the beginning, and that is placed somewhere in the year 2001, the 4 FYS members (of which today still remain lead singers/ guitarists Dan O'Connor & Alan Day, and drummer Jake Massucco – who met through mutual friends while attending Doherty Memorial High School in Worchester, Massachusetts), the band's motto was to play the kind of music that they'd like to hear, but wasn't out there yet! Back then, that meant a kind of Post-Hardcore, musically, and the band's early releases (self-released demos and EP's : Nov. 2002's All The Lonely Girls, and 2003's The Glory) reflected that musical choice.
But for the release of their 2004 demo (simply entitled 3-Track Demo), the guys switched to more synthesizer-heavy stuff, while also beginning to use elements of Power Pop and general Hardcore Punk, which were elaborated upon with their Jan. 2005 full-length debut, It's Our Time (issued on a rotation of 400 copies on the band's own Open Your Eyes Records) and the 2005 5-Track Demo. Note : in 2004, current bassist/ backing singer Joe Weiss entered the fold (no idea whom preceded him), and in 2006 keyboardist/ screamed vocalist Josh Lyford makes the band a quintet (again, no idea whom might've enhanced the band's sound with those synth sounds before hé came into the fold).
In the period which follows, the band starts incorporating more and more elements (such as double bass drum and guitar breakdowns) from modern Hardcore, which become apparent on the band's label debut full-length, Rise Or Die Trying, issued through I Surrender Records in Sept., 2007(and as leaked on the band's 2006 demo Rise Or Die Trying (Unmixed) – spicy detail, during the course of their label career, the band has regularly "leaked" new material, either as demo, or as posted "secret song" on their website), and were enhanced upon for the band's third album (their first on Decaydance/ Motown Records - a subsidiary of Universal), March 2010's Enemy Of The World. In between however, namely in July 2009, FYS released a covers album entitled Explains It All (which also featured several guest appearances), playing music from when the guys were still in their early teens. For their fourth, and currently last, full-length, Nov. 2011's In Some Way, Shape Or Form, the band again changed its general sound, switching to Alternative Rock...but the new EP at least gives a hint of FYS returning to its Hardcore roots. I, for one, can only cheer at that fact, because what FYS brings on that 5-tracker is really delightful, melodic, singalong stuff, with a pace and sense for underneath currents which will please those of us who prefer a touch of complexity and musicianship in the music they listen to!
Over the years, FYS releases have gained the band an increasing popularity (the label debut went up to #31 in the Billboard Heatseekers chart; the covers album went to #115, in the more important Billboard 200; the 2010 album went to #47 on the Billboard 200; and the 4th album only made #88...which may explain the band's return to their former success formula), and with it came increasing live performances...to the point, actually, that by 2012 the guys had to puzzle hard to be able to have a 3-week holiday from the road. Just prior to the 2012 Warped Tour, the band severs its ties to their label, and still performed with Blink-182 on their UK and Ireland tour...but after that, FYS started turning back the performance frequency quite drastically, and what with the fact that O'Connor had been married for almost 2 years, and Day starting his Alternative/ Blues side-project The Here And Now (released an EP in 2013), rumors started spreading that the band might've broken up.
However, while enjoying their 2013 holidays in their hometown, the band announced that they were actually working on new material, to be released at a later date...and after that announced a North American tour in support of Bayside throughout April 2014 as well well as their participation to the complete Vans Warped Tour. So, here we are, full circle...the American Go Down In History Tour was kicked off on Nov 1 of last (with dates running as late as Dec. 27), and in January the band is again on the road, mostly as support to Comeback Kid's US tour (but with extra shows on the side-line). For a video of the 5-track EP's title track song, go to (http://) fouryearstrongmusic.com, for additional (and older) material, check out the band's facebook page!