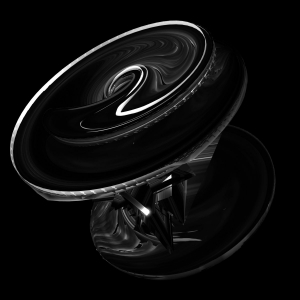 Release Date:
Friday, September 24, 2021
(h)ashes to ashes, dust to dust…
The French word for 'cold' is 'froid', yet it is also the moniker of a Montreal, Québec-based outfit. I was positively impressed by 2018's L'Adjective (Liberation Through Hearing), so I was happily (forget about the deepest definition of what 'happiness' might be like; I am rather referring to the fact that I did have a certain smile on my [pretty] face) surprised to find out that Unlog recently released this project's first official full-length, called Permanence. The moniker of this recording can be defined as 'the quality or state of being permanent, perpetual or continued existence' (taken from the biography), and more specifically the artist is trying to analyze the truth behind the potential of a permanent evolution. Many levels of existential realism and existence define our continuous raison d'être, and both knowledge and experience might define the core of this 'permanence'. Emptiness, desolation, nihilism and isolationism might enrich the Inner Eye, and must not hide from them but explore them to grow. At least, that's how I do interpret this concept, and otherwise I'll fool you with another explanation.
No, seriously, this album indeed is like a critical, philosophical and in-depth quest to realize a permanent, and why not, an eternal, existence in life; or at least to investigate the questions and to study the answers. Birth – mortality – death – rebirth; where does eternity end, when does permanence exist? Froid try to translate this search for truth, realism and continuation via nine individual yet cohesive sonic creations, eventually clocking about forty-three minutes. The result sees the (en)light(ening) via Unlog, also based in Montreal (Canada), via digital sources (no idea whether a physical edition is in the making). The whole album was written, composed, recorded, produced and mixed by Froid; even the truly remarkable and unusual artwork was done by the artist himself (herself?). The whole got eventually mastered by Dennis Jacobs.
Permanence combines elements from different yet related genres, from Dark Ambient over Dungeon Synth to IDM and Psybient, with the remarkable fact that every single piece shows another angle of this project's approach – once again, as said, remaining into deeply coherent spheres (instead of being some infantile collection of desultory pieces).
Let's take the opener, for instance, called The Slow Ascent. This composition starts with distorted violins and cello (I think), added by some subtle noises, and it crawls froward, slow yet unstoppable. Percussion-like beats join, and more samples get introduced, before evolving into some energetic piece of semi-danceable elegance. Little experimental and strongly creative, yet somehow stunning.
Church Burning then again is inspired by the old-schooled Dungeon Synth spirit, embracing a distant warmth, a floating light, untouchable yet still sensible. The balance of (Dark) Ambient and Dungeon Synth is fragile, the richness of sound is monumental, for this song evolves towards a munificent symphony. In spite of the repetition, it surely lacks ennui. Songs like the continuously evolving Le Long Cycle (ice-cold and grim in essence; also having violin and such asphyxiating atmosphere) or Sister (including a fragment in the middle with uplifting live percussions) delve in the bleak pits of mesmerizing Dungeon Synth ambience as well.
As said, hints of IDM-oriented play are part of the game too. Rise Of Man is such electronic-based track, build around long-stretched synth-waves, soft-industrial beats, astral melodies and dark-edged soundscapes. Rhythm Wall goes on in a comparable vein, even-though being much more eclectic and energetic in nature. These tracks somehow are covered in a mist of Gothic-alike drama too.
Tracks like Colliding or the tranquil The Awaited have a rather martial character, caused by the militant percussion-work especially, or the semi-bombastic synth-lines (the latter in the first place going in the case of Colliding, for The Awaited has a rather esoteric, even meditative character within the sound of the keyboard-lines).
That meditative character appears in the very last composition (Terre Du Nord) too, albeit deeply oppressive and haunting. This final piece brings both paralyzing claustrophobia and transcendental hypnosis, subtly balancing in between these extremes by the use of industrialized drones at the one hand, and intoxicating spheres of all-covering nebula (with some gloomy Winter Synth approach) at the other. Terre Du Nord is the magnum opus of Permanence, convincingly defining the in-depth meaning of what 'the quality or state of being permanent, perpetual or continued existence' might signify through aural sources.
It's clear, I guess, that there is a huge amount of diversification on Permanence, as well as a mighty cohesion in between these different sections. The result sounds challenging and adventurous, teasing the listener's fantasy and creativity, yet also invoking introspection and awareness at the same time.
https://music.unlog.info/album/permanence