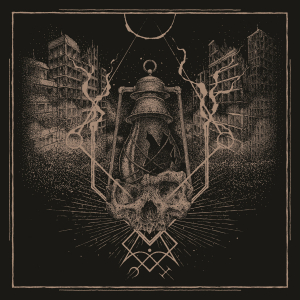 I do not know whether it is to celebrate their 25th anniversary; ah, it doesn't really matter… Anyway, Italian act Frostmoon Eclipse returns, after more than three years of absence, with their seventh full length studio album. The band was formed in 1994 by Claudio Alcara (who used to be part of the mighty Handful Of Hate line-up too). But things started really running well when Claudio joined forces with one of Italy's most notorious skin-beaters, Gionata 'Thorns' Potenti (think: Nocratai, Moloch, Deathrow, Manetheren, well, the list is endless)
I am not going to write down the whole history of the band, the evolution and changes in line-up, or the discography. There is Internet, you know, where you can find everything you want. I will rather focus on the sonic details of this specific release.
So, in Spring 2016, Frostmoon Eclipse released their sixth album, yet since then everything seemed to fade away into oblivion. However, the band did not stop its activities, and they continued writing new material. Eventually, they signed to Immortal Frost Productions, an upcoming label from Belgium that houses several huge names from the international scene (and that did release several hands full of outstanding recordings in the meantime). This co-operative collaboration resulted in the release of Worse Weather To Come.
Worse Weather To Come (that's normal, for we've been welcoming Autumn several weeks ago, and Winter will visit us soon) gets released on compact disc (1,000 copies with an eight-page booklet), as well as via the known digital sources, and on vinyl too (three versions available: 'normal', so-called 'transparent beer' and on splatter vinyl, half clear and half gold). Everything got recorded with a stable, quite long-running line-up, being guitar player and song composer Claudio and drummer Gionata, long-time vocalist / lyricist Lorenzo Sassi (part of the band since the start of this century) and bass player Davide Gorrine (of Manetheren-fame; also for more than a decade active in Frostmoon Eclipse).
For about three quarters of an hour, this Italian horde surprises, once more, with a very powerful, convincing mix of both traditional and somewhat contemporary Black Metal. The better part is fast and merciless, yet still there is room for a huge variation and deep-thought attention for melody.
Take opener I See The Void, for example. It starts, immediately, as an all-devastating tornado. It's fast and energetic (listen to those artillery drum salvos, speeding up everything even more convincingly), with at the same time an amazing touch of mesmerizing elegance. yet besides the aggressive approach, the melodic structure of this opening sequence incorporates something that exceeds 'just violence and power'. Yet after about one minute, an acoustic intermezzo shows another aspect of this band's craftsmanship; though it lasts for just a couple of seconds, for the terrifying unstoppable madness returns once more. And so it continues: acoustic and semi-acoustic pieces, epic grandeur and forceful power, so many changes in tempo and song structure… …and it simply sounds purely organic, ingeniously well-thought. And I'm still giving a (brief) description of the first track only, can you imagine…
Frostmoon Eclipse have the foxiness to append their traditional material with details that keep the whole journey so unbelievably interesting. I mentioned the ferocity in tempo that defines the better part of the album. So, quite interesting are the few slower parts, sometimes even relative doomy in sound and performance. After thoroughgoing dissection, one can also discern subtle Post-elements (especially string-related), demonstrating the universal and time-overfulfilling performance. Or what about the many, though subtly injected elements from the (traditional) Heavy / Thrash Metal scene (cf. All Is Undone or the semi-melancholic tremolo leads in Resignation)…
As said, the basics are quite 'orthodox', with more than a coincidental reference to the so-called Second Wave. That's exactly the era when this band started spreading its message, yet still… At the same time, I do notice some progressive aspects too. Especially drum-wise, this shows up more than once. Listen, for example, to the acoustic intermezzo in A Room, A Grave, or the introduction on Brother Denial. And what about the structures, and that solo, in Sleep, for instance?...
Production-wise, this album has a monstrous result. It is clamorous and ferocious, vigorous and overwhelming. Even the 'softer' pieces (cf. the acoustic intermezzi) are powerful and determined. But it not exactly a catchy result, for the whole comes with that naughty attitude in sound. The mix of all individual elements is beautifully balanced, courtesy of the band's bassist, who took care of engineering, mix and mastering.
It's a vivid element that everything sounds so naturally evident. These guys are playing together for quite some time under the Frostmoon Eclipse moniker, which elucidates the natural teamwork. But we're talking about very talented and crafted musicians too; four people that see the band as more than a result of just four individual musicians. And this rewards! That's their strength, the combination of acting like one four-headed entity, and having the skills to write and execute simply great and timeless material…
I might write down something about the members' sublime qualities: the fabulous guitar playing abilities, the magnificent drumming techniques, the skilled bass lines, or the harsh, raw throat, but you know, I will just leave it with: see above.
Oh yes, finally something that is quite interesting if you care (if not, just ignore it, forget about it). Song To Darkness, a very hypnotic composition (the main guitar lead structures and the underlying rhythm section, yet as well as the acoustics involved, have something post-meditative, if that would exist – as from now on it does), comes with guest vocals by no one else but Harakiri For The Sky's J.J.
https://digital.immortalfrostproductions.com/album/worse-weather-to-come
https://www.immortalfrostproductions.com/releases/frostmoon-eclipse/frostmoon-eclipse-worse-weather-to-come-cd-lp/
https://www.shop.immortalfrostproductions.com/
https://frostmooneclipse.bandcamp.com/album/worse-weather-to-come-album-2019