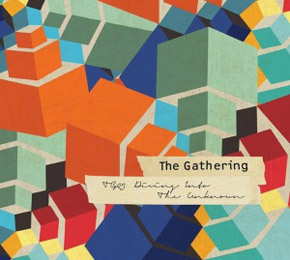 The Gathering is a band I vaguely knew by name, and I might have heard some songs of them in the past, but that''s about  it.  So when I was given this triple CD to review, I didn't really know what was coming towards me.  Hell, I didn't even know this band had been around for 25 years already.
The box, as said before, contains three discs.  Disc one is a containes all the singles they ever released, whereas disc 2 is a loose collection of songs, and finally disc 3 is a live recording from a gig they played in 2004 in Paradiso – Amsterdam that's also featured on the 'A Sound Relief Recordings' DVD.
What immediately became crystal clear to me, is that this band has greatly influenced fellow Dutch band Within Temptation or similar Goth-themed, female fronted bands. But you cannot categorize The Gathering as a goth band.  There's more to them than goth. If, like me, this band is uncharted territory for you, I guess this anniversary album gives you a good overview of their career.