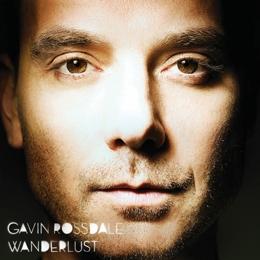 No, you silly, nót a new solo album by the frontman of Bush, but a re-issue of the man's solo album of 2008, which had been unavailable for some while now!
Although seen as his debut solo album, Wanderlust was actually Rossdale's second solo effort of sorts, because when he founded the band Institute in 2004 (after Bush's temporary break-up in 2002) he meant that as a solo outing, using guitarist Chris Traynor (whom had replaced Bush lead guitarist Nigel Pulsford in January 2002 for the band's last tour, as the latter wanted to spend time with his family) as a partner. But then the project was drawn out of the original intents and proportions after Rossdale's reuniting with Interscope Records (who had released Bush's first 3 records, 1994's Sixteen Stone, 1996's Razorblade Suitcase, and 1999's The Science Of Things). Institute eventually recorded the one album Distort Yourself (which was released in September 2005) with Helmet frontman Page Hamilton. Featuring guest vocals by Rossdale's wife Gwen Stefani (known for her role as frontwoman with No Doubt, and a successful solo artist to boot!) in the song "Ambulances", the album debuted on the Billboard Top 200 Album Charts at #81. First single "Bulletproof Skin" made it to #28 and #29 on Billboard's Mainstream Rock Charts and Modern Rock Charts respectively. The song not only found substantial radio airing, but was also performed on a number of important TV programs, and included into the soundtracks of the movie Stealth and the hockey video game NHL 06. In spite of opening at some of the shows of U2's Vertigo Tour in late 2005, Institute failed to achieve sufficient commercial success to warrant its continuation, and so the band broke up in early 2006.
Which must've been somewhat of a relieve for Rossdale, in spite of the fact that he's known having stated loving to play in Institute. At any rate, he could now concentrate on a proper solo outing, a first result of which came with the contribution of a cover of John Lennon's song "Mind Games" to the Lennon tribute Instant Karma : The Amnesty International Campaign To Dave Darfur. Then, he started writing material for a new Bush album, but when Nigel Pulsford opted out, he used the material in stead for a proper solo album. Wanderlust, which was originally released through Interscope on June 3, 2008, again found Rossdale united with Chris Traynor. On the drums we find Josh Freese of A Perfect Circle repute (actually the first drummer of Institute, used to make the band's album recordings), and the keyboards are handled by Jamie Muhoberac (whom you might know from Fleetwood Mac), while the bass was thumped by one Paul Bushnell (sorry – I seem to have no additional background on thàt dude!). Additional guests on the album include backing singers Toiya Barnes, Esther Austin and Angie Fisher, but perhaps Shirley Manson (of Garbage; backing vocals on "The Trouble I'm In") and Kate Perry (solo artist; backing vocals on "Anther Night In The Hills") are more resounding names? According to one source, the album's opening track "Can't Stop The World" would also have backing vocals by Gwen Stefani...but in all honesty I v-cannot recognize her in the sparse female backings! Two songs saw Rossdale collaborate with renowned songwriter/ Musician/ producer Marti Frederiksen (worked with Aerosmith, Buckcherry, Daughtry, Ozzy Osbourne, and more), and 3 others with Dave Stewart (of Eurythmics fame)
With the original thoughts about the album's material in mind, it shouldn't be too surprising that the album sounds somewhat like what a Bush album, anno 2008, might've sounded like. In other words, what you get is classy Post-Grunge with Alternative Rock leanings. The ideal setting for Rossdale's somewhat raspy-but-still-clean vocal stylings. The original album was a 12-tracker with an additional hidden (short) track entitled "This Place Is On Fire", but it was also released in an exclusive edition containing bonus tracks "I Don't Want To Lose Myself Tonight" and "You Can't Run From What You Forget". The album's lead single "Love Remains The Same" (issued on April 1, 2008) also included the exclusive b-side tracks "Jungle In The Circus" and "Vaya Con Dios"...and you'll find àll of those extras added to this 2013 re-issue!
For your bit of music off this album, check what's available at (www.) gavinrossdale.com (which is currently also the official website of the re-formed Bush – reformed with a line-up of Rossdale – Traynor – bassist Corey Blitz – drummer Robin Goodridge, that is, as none of the other original Bush members opted to join in when Rossdale contacted 'em back in 2010...since then, the band's toured...quite a bit, and released its 5th album The Sea Of Memories in September 2011 – which, incidently, got a review by yours truly, posted 09/02/2012).