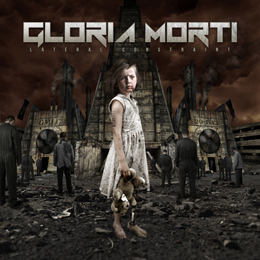 The history of Gloria Morti takes a start at the end of the nineties in Heinola, Finland. The quartet (back then Gloria Morti were a four-members collection) records several demo tapes and a strong promo-MCD, called Phoenix Caged In Flesh, which marked an evolution from intense and obscure Thrash Metal into a darker and much more brutal form of Death / Black Metal. In 2004, Gloria Morti signed to World Chaos Productions, which resulted in the release of the debut album called Lifestream Corrosion. Somewhat later on, Cyclone Empire, still one of the fastest growing labels nowadays, offered the band a new deal. 2008 saw the release of self-financed album Eryx, one of the most surprising albums that very same year, and in 2010 they did release their strongest album to date, Anthems Of Annihilation.
The quintet (main man and Before The Dawn / Riverside Syndicate-member Juho Räihä-g, vocalist Psycho from Death / Thrash band Nemecic, Aki Salonen-b, Kauko Kuusisalo-d, and new guitar player Eero Silvonen, whom you might know from notorious acts like The Final Harvest (probably my favourite Thrash-band from Finland), Casket, Routasielu or Death Confronted), recorded Lateral Constraint, their fourth full length studio album, partly at Juho Räihä's home studio (D-Studio), and partly at SoundSpiral. The mastering was taken care of again at Chartmakers by Svante Forsbäck (Twilight Ophera, Sotajumala, Soulfly, Rammstein, Terhen etc.).
Lateral Constraint opens with Lex Parsimoniae, which opening riff reminds me to My Dying Bride. But after a handful of seconds, the song bursts out like an exploding volcano, blasting its Death-spawn with thrashiness and terrific intensity. First, second, third and x'th reaction: waw! What a power, what an aggression. But as we're used to, this song (and of course the same goes for every track on the album) has more to offer: harmony guitar lines, melodic leads, decelerations; in short: Gloria Morti at their best! And evidently the atmospheric, oppressive keyboard lines at the background are present again to give the whole that suffocative feeling of innocent desperation and impotence. The energy is incredible and goes for the next songs too.
In comparison to both former recordings, this one sounds more organic and technical, and just a little less experimental / varying, yet still way beyond the average. The subtle Black-influences of old made place for a thrashier approach again, and the use of synth support did diminish too. But the overall atmosphere is as bleak and obscure as it has always been the case. Therefor Lateral Constraint is highly recommended, again, to all Behemoth / Zyklon / MindGrinder / Yattering / Immolation / Hate Eternal / Vader / Morbid Angel-cognoscenti.