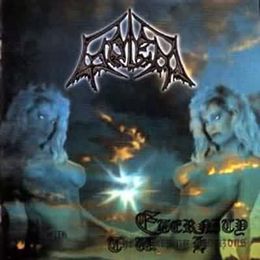 Album Title:
Eternity – The Weeping Horizons / The 2nd Moon
Golem are a pretty 'old' band from Germany, formed in 1989 as a Grind-combo, and despite limited activities, they never broken up officially (so, still active???). During the first half of the nineties, the band recorded the demo-tapes Visceral Slab (1991; this material was partly released on vinyl in 1992 too) and Recall The Day Of Incarnation (1993, which was less Grindcore-oriented), and during the second half there were two full lengths, Eternity - The Weeping Horizons (1996, via Invasion Records) and The 2nd Moon (1998; Ars Metalli). In 2004, Nuclear Blast released the third full length, Dreamweaver, and since then I don't think there wasn't any official release anymore.
FDA Rekotz from Germany, one of the strongest upcoming labels when it comes to Extreme Music since about six-seven years, are now to re-release both first albums on CD and vinyl (this stuff had never been pressed on LP before, apparently), and via digital download. The whole has been re-mastered by frontman Andreas Hilbert and comes with astonishing artwork by Mark Cooper (though I liked the original cover artwork of Eternity … a lot, hehe).
1996's Eternity - The Weeping Horizons (forty three minutes of length) was originally recorded at Sweden's famous Unisound Studio with engineer Dan Swanö himself (the band took care of the production) by Andreas Hilbert (g, v), Michael Marschalk (d) and Rico Spiller (b). It brings a melodic yet pretty intense form of technically-advanced Death Metal, and it certainly brings a name like Carcass to mind. And then I am referring to this UK masters' early-nineties-era. It goes for the song structures as well as the performance, the main vocals and the instrumentation (both leads and rhythms). I prefer to call it 'tribute' rather than 'copy', for Golem aren't just a rip-off formation. Other bands that might come to mind are Bolt Thrower (listen, for example, to the introducing riffs on In My Favourite Darkness and you'll understand…), Asphyx and Suffocation. Remarkable is the symbiosis of a technically high-skilled execution and a straight-forward performance attitude; two elements that quasi-perfectly go hand in hand on this album. Also the late eighties / early nineties spirit is not 'just' old styled, for this band was slightly visionary; read: without being progressive, Golem were able to create a protagonistic concept.
The 2nd Moon (duration: also about forty three minutes) was recorded at the Blue Art Studio and mixed by the band at Soundforge, which is run by band leader Andreas. This time, Andreas (g, v) did the engineering, and he was helped out by, once again, drummer Michael Marschalk (who left shortly after) and newly recruited musicians Rainer Humeniuk (b) and Carsten Mai (g) (nowadays, both of them are still part of the band, and so is Sinners Bleed's drummer Eric Krebs - FYI). The 2nd Moon goes on in the vein of the debut, but with some slightly different accents here and there. Still the Carcass-influence is of major importance, yet this time one might find some elements comparable to the likes of Death and Hypocrisy too. I think this album is heavier and harsher than Eternity …, and slightly more progressive as well (God Emperor, for example, comes with a couple of ingeniously-technical structures that prove this evolution; or listen to the instrumental outro). The sound too is little 'cleaner', yet still does not miss the intense power created on the debut either. The vocals (grunts) sound deeper and more aggressive, and despite the technically-increased approach, The 2nd Moon is less varying (especially the energetic tempo lacks of extremes; generally faster with less decelerations, and with more, slightly monotonous power-driven rhythms).
Once largely and unfortunately underestimated, yet now restored in honor…