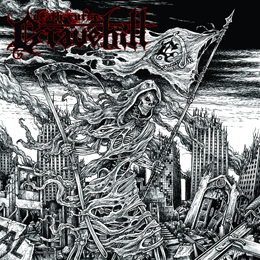 Californian band Gravehill was formed in 2001, but they had a short-lived history with one EP only (which was called Practitioners Of Fell Sorcery). The band split up shortly after, but in 2007 they reformed, with the EP Metal Of Death somewhat later that very same year, and 2009's Rites Of The Pentagram as proof of their glorious comeback. In 2010, Ibex Moon Records compiled and re-issued both these recordings (see Archive-update on December 8th 2010 for the review I did, and share my enthusiasm about this sweet combo). Current label Dark Descent Records released the band's new 2011-album When All Roads Lead To Hell, but I haven't had the opportunity nor the time to review it, but I'll make it up with the successor, and second full recording for this strong Colorado-based Death Metal-label, Death Curse.
The nine titles last for thirty six minutes and after a short but unnecessary intro (Gates Of Hell), the band brings what the listener does expect: rough and sharp-edged Death / Thrash Metal with a blackened attitude and, above all, a glorious expression of Old School purity. The tracks are filled with mammoth riffs, sharp-edged solos and leads, thrashing and guttural screams and some deep grunts, colossal drum patterns, and heavy-as-f*ck bass rhythms. No progression or poppy gimmicks, no modern trends, but performed with a nihilistic and stripped-down vision on the essence of Extreme Metal, this material does not differ from the past. There is a nice equilibrium in between the extremes of speed, but the better part is focused on fast and furious power (yet not permanently blasting). Luckily the band injects the hymns with several breaks and massive slower parts. Besides, there are a couple of passages that are honoured with a punkish penetration or a sleazy Speed / Thrash / Heavy Metal glorification (eighties-inspired, evidently).
For fans of everything in between Autopsy, Slayer (mind the solos!), (earlier) Death, Bathory (some riffs breathe the obscurity and nastiness from the Eighties), Venom, Repulsion, Massacre and Asphyx.
For the interested ones and the vinyl-freaks: there is an LP-edition to be released in the near future.