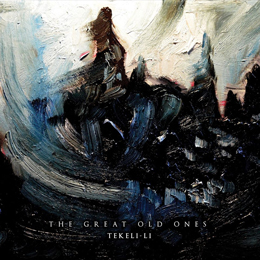 Release Date:
Wednesday, April 16, 2014
Bordeaux-based The Great Old Ones were formed in 2009 by Benjamin Guerry, who's especially known, I think (at least in his home country) for his activities in the rather renewing and original Hardcore-act Day Of The Fisherman. In 2012, The Great Old Ones released their first full length Al Azif via superb French label Les Acteurs De L'Ombre, and based on the title and the band's name, one might expect a source of inspiration by H.P. Lovecraft. This theme is not original at all anymore within the Extreme Metal scene, but the whole lovecraftian oeuvre for sure is too interesting to ignore, in case you are a fan of his works. Apparently Benjamin sort of is obsessed (or is it possessed?) by Lovecraft's literary excellence, and that explains the lyrical concept of the debut album Al Azif.
Tekeli-Li too, the sophomore The Great Old Ones full album, draws its lyrical inspiration from that source. The title is taken from the Cthulhu mythos. The Shoggoth (a kind of amorphous monsters created by The Old Ones) endlessly repeated this cry 'tekeli-li'. The lovecraftian lyrics themselves deal with an Antarctic expedition led by a team from the Miskatonic University, in order to find knowledge about evolution and Life (and evidently they will find Death), inspired by At The Mountains Of Madness. This novella from Lovecraft did inspire musicians, authors, painters and even movie directors from all over the world. Guillermo Del Toro, for example, wrote a script to have this story translated into a motion picture, but I have no idea whether he already started filming this stuff. Anyway, the lyrics on this album are written in both French and English.
The album has a total running time of fifty three minutes and opens with Je Ne Suis Pas Fou ('I am not crazy'), a very short introduction but a perfect setting of the theme. It consists of a haunting keyboard line and spoken words. Next comes the first 'real song', Antarctica, that starts with an ultra-heavy, slowly-pounding and massive Sludge rhythm, soon joined by eerie guitar leads and deep, rather spooky grunts. The song mixes elements from haunting Post-Black and droning Sludge with eccentric melodies, a massive sound (Studio Rock & Chanson), lots of breaks and tempo-changes, injections of Funeral Doom and Post-Rock, and a gargantuan (read: full and rich) rhythm section. This multi-dimensional track is a monument, a pure sonic translation of horrific terror (or terrific horror?), evidently the purest translation and definition of the album's concept. And even after several listens, I can still find new inspirational and erectionally-satisfying details, time after time. One thing about the lyrics on the album, however. There has been a mistake by printing the text, for this song comes with the lyrics for The Elder Things instead of the right ones (a pity for they are of importance to 'get into' the story totally); but search the net and you will find the lost lyrics. Third title on the album is The Elder Things (he, here we have them), which opens with a piano intro. The song starts more unassumed and discreet, but after about two minutes the Antarctic Hell breaks loose. This composition is less complex and more 'traditional' (in case any form of tradition might occur within The Great Old Ones' Aural Art), but still with a huge dose of Post-oriented majesty (and with 'post' I mean Post-Black). Awakening opens with a spoken introduction (cf. Je Ne Suis Pas Fou), and continues the most funereally and doomy way. And for your information: especially during the first half of this track, I cannot but think about Ahab's The Call Of The Wretched Sea (and that's a compliment since I think this album I refer to is one of the best things ever done within the Funeral Doom scene!). The Ascend is an instrumental piece with a very energetic, fast-paced body. At the end things turn much calmer, with nice acoustic guitars and even cello. Behind The Mountains, the last composition on this album, starts with an acoustic presentment (extremely fascinating), but you can guess it… After a while the Antarctic horror shows up once again, and it has one goal, just one single purpose: annihilation! The Great Old Ones have it translated into another massive, suffocative and oppressive wall of sound, leaving no room for peace, leaving no chance to escape! The track (with its eighteen minutes the longest epic on Tekeli-Li) also contains some acoustic / semi-acoustic pieces (after about four minutes, and again after ten minutes), but it makes the whole only more creepy, ominous and uncomfortable.
It's not the album in its totality that strikes me. Also the individual craftsmanship is unaussprechlich. Whether it be the inventive drum patterns, the excellent bass lines, the hallucinogen guitar leads or the perverted screams; all of these elements are sublime. And what's more, since they act unnaturally cohesive (such coherence causes such full sound, of course in interaction with the professional production and mix), it isn't but one reason that defines the magnificence of Tekeli-Li.
This album is just fabulous, nominated for 'album-of-the-year' (though 2014 is another great year with quite a list of possible nominees). But it is a must in case you like stuff in the vein of Ahab, Altar Of Plagues, Lantlôs, Alkerdeel, Lycus, Kaula, Gorath, Wolves In The Throne Room, The Ruins Of Beverast etc.