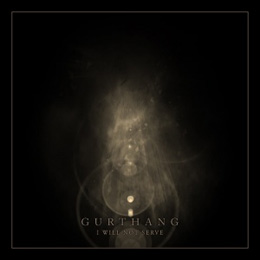 Polish horde Gurthang (another reference to the great Tolkien-sagas!) finally returns with new work. In the first years of their existence (they were formed in 2010), they did record and release quite some stuff, but as from half of 2013 nothing seemed to happen anymore. Until now…
Note: I started with 'Polish', and that's correct, for the band's origin is rooted in Lublin (at least: band leader A.Z.V. hails from that city, close to the borders of Belarus and Ukraine), but Gurthang consists of members from Norway and Ukraine too, FYI.
But let's not focus on that, yet on this fourth full length album. It was written and recorded by frontman A.Z.V. at Exe Sound Studio, mixed at Zen Xaos Studio by Xaos Oblivion (you know, the guy behind e.g. Abusiveness, Xaos Oblivion, Void Dweller, Perdition etc.), and mastered by Déhà (think: Aurora Borealis, Nød, C.O.A.G., We All Die (Laughing) etc.) at HH Studios.
I Will Not Serve lasts for sixty eight (!) minutes and convinces with each single piece on it. Once again this is a band that not tries to impress by being renewing. Once again, and believe me if I say that the past three-four years do satisfy me a lot, this is a band that rather focuses on the most honest purity of the one and only essence: the dark-edged side of Metal!
As a matter of fact, everything gets resumed with the first track. With its length of less than three minutes, opener Nemesis is the shortest piece on I Will Not Serve, but it combines everything this album (and in extension: this band) stands for: a beautiful mixture of different types of Black and Doom Metal, with lots of changes in speed and melodic structure, yet with one single generality: the mostly obscure, ominous and Luciferian expression of grimness. Seriously, each single composition on this album has its own story, yet all of them come with a grandiose cohesion.
I cannot but mention the sublimity of the concept. Decaying Tombs or Beauty Of Misconception, for instance, with those fabulous semi-acoustic excerpts and those eerie guitar lines; the subtle use of synths and effects throughout most of the album; the late-Mayhem-alike necroticism in tracks like Levant Du Serpent Noir; the hidden links with the Funereal Doom as well as the Morbid Death Metal scenes; the perfect equilibrium in between timelessness and, at the same time, old styled purity; the fine symbiosis of stylistic approaches (and here I mean: sometimes it sounds very old schooled in a Black metal manner, then again rather morbid Doom-laden, esoteric Sympho-Death-alike or nihilistic Thrash-edged blackened); the purely suffocating and mesmerizing approach of Szklany Okruch; and so on. Damn, it sounds as an amalgam of different approaches, but as said before, Gurthang easily succeed to clothe everything in a very own, specific, self-faced manner. Despite (or better: thanks to) the sublime variation on details, the whole album sounds like something that would / could / should please open-minded (yet intelligent) 'fans' of Doom-Death, Funeral Doom, most kinds of Black, and Morbid Death Metal, no matter if you prefer the old schooled approach or a more up-to-date expression of Aural Obscurity.
Once again Immortal Frost Productions surprise undersigned a lot with such qualitative release. No, it has nothing to do with chauvinism, because I do adore lots of labels from all over our *** globe too; but one cannot deny the excellence of this Flemish label's perfect nose for highly-qualitative material. Once again I'm proud to have the opportunity to listen to this kind of material!