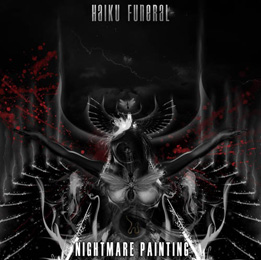 For quite some time, Haiku Funeral please / irritate humanity with quite disturbing collections of Aural Creation / Destruction. Via Hikikomiri Records, the band released two albums before, called Assassination In The Hashish Cathedral and If God Is A Drug (seen the titles, this might be somewhat mind-tripping???; so I'd like to suggest you to read the quite unusual and explicit lyrics and you'll have an idea). And now they return with Nightmare Painting via one of the most deeply-interesting labels I know, Aesthetic Death, home to Esoteric and the likes.
Nightmare Painting has a total running time of almost forty five minutes, and it was recorded and mixed at the (unknown?) Daemonicreation Studio in Marseille (France) in between 2010 and 2012 by members William Kopecky (bass, vocals) and Dimitar Dimitrov (vocals, electronics). And the travel begins with quite an impressive yet extremely disturbing intro, an eerie, obscure mixture of electronic sounds, ambient atmospheres and spacy-trippy melodies. With Roaring, the duo brings more of their depth, being a frenzy form of spacy Ambient-Electro-Industrial with quite some blackened and obscure-occult elements. As a matter of fact, these electronic rhythms are quite groovy and even funky / jazzy in execution, then again little EBM-energetic or mind-explosive (and if this terminology did not exist yet: as from now on it does!). No, seriously, this mélange of electronic beats, freaky bass lines, haunting synth melodies, hyper-active drum beats and crazy voices is quite unique, I think. More than once the sound track from the first The Crow-movie passes the revue, yet brutally and sadistically tortured and raped by a malignant and sadistic madman's terrific / horrific infected brain.
I had to go through the whole thing three times before I dared to start to write this review, and still now I am somewhat confused. So do not ignore my warning that follows right here. Haiku Funeral's Nightmare Painting is a very 'apart', different release (Aesthetic Death, you see…), and it will be disliked by quite some people all over our putrid globe. But I am convinced that some twisted minds will adore this kind of sonic madness, if only because of the ingenious ideas behind the concept. No matter if you adore the 'musical' result that much; take me, for example: I am not that fond about the 'melodious' execution, but I am totally convinced because of the unique concept, though this being totally schizophrenic and highly (or better: 'high'ly) subversive.