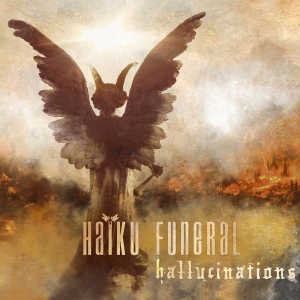 ~~With Hallucinations, Haiku Funeral have their fourth album, and the second for Aesthetic Death. The former release on their current label was Nightmare Painting, released in early Spring 2015. For the interested ones: the review on that album was published on June 7th 2015; you will find there some additional biographical information. The whole was written, composed and performed by the central duo of William Kopecky (bass, voices, lyrics) and Dimitar Dimitrov (vocals, programming, keyboards, guitars), with assistance of David Lillkvist on percussions / drums. Once again it got recorded and mixed at the Marseille, France-based Daemonicreation Studio over a period of several years, and the result got mastered at the famous Priory Recording Studio by no one else but Greg Chandler (think: Esoteric, Gorath, The Nihilistic Front, Whelm, Ephemeral Ocean and many others – indeed, many of them currently or formerly on Aesthetic Death's unusual roster).
Aesthetic Death is one of those labels that dares to trespass the borders of normality – and abnormality. With this specific project it's no difference. I haven't heard the first releases (yet), but I have to admit that I was not totally blown away (haha, 'to blow' and this band in one single phrase; it can't be a coincidence) by Nightmare Painting, for it did leave me unsatisfied (maybe I didn't have that stuff that would have helped me through… etc…). So I was quite sceptic when I did receive this new album. But after a couple of listens I was convinced about the genial frenzy… Just go on…
The artwork on Hallucinations, to start with, wonderful! It surely comes close to the visual definition of the aural part, mingling apocalyptic darkness (Fire! Fire! Fire!), with semi-erotic, mystic and occult themes. The Fallen Angel will burn our world and there's no escape from the all-devouring Final End… There's no cure against the venomous wrath of the Gods of Death, that's a certainty. Ave!
The sonic side smoothly translates those mesmerizing visions, those tormenting nightmares. It starts with the short yet truly ominous intro, called The First Amphetamine Kiss. What a thriller, what a breath-taking starter this is. Two minutes only, perfectly setting the tone for an experience you want to avoid – and to be part of as well… It's like a pulsating drone, a declaration of war, a prophecy of war. A vulva and a needle introducing a fifty-minutes trip…
And then starts the title track, the initiation of this psychotropic experience. Tormented bass and haunting electronics, dark erotic poetry and organic drumming – I stole it from the flyer kindly provided by Stu (Aesthetic Death) – but it says it all. Indeed, weird but pulsating bass lines, both mesmerizing and haunting keyboards, hammering percussions, weird and pushing guitars, and grim, filthy vocals are the spine for this unhuman ritual, this fabulous and brain-tripping composition. The next track, растворение (pronounced like Razgradjone and meaning dissolution) focuses even more on those powerful bass lines and weird electronics, smashing drum patterns and totally disturbing voices, getting combined unto a mostly hypnotic and ominous sonic result. This is not 'Music' as the dictionary defines. This is an aural translation of those hypnotic visions and prophecies I referred to earlier. And the story goes on this way. Spacy ambience, post-apocalyptic soundscapes and abyssal noise-collages disturb the listener's consciousness, leaving no room for perspective, inner tranquillity or natural objectivity. In a sometimes funky way, the border with self-dependency (in a sense of reliance) and a peaceful mind-setting simply gets blown away, like a luscious venom sweetly caressing the most morbid areas of the brain, the eardrums, spirit and mind. Yes, I admit – I have no idea anymore what I'm writing right now, but it says it all, does it not?!
Is it the invoking of Baphomet himself, or the trespassing through mental dimensions unexplored before? I do not know, but I will be part of the expedition towards the unknown… Or in human words: compared to the former recordings, Hallucinations is an enormous step forward – okay, it's even more difficult to digest – but with certainty it is a recommendation if you don't fear to enter the infected realms of the psyche.
Hail the glorious number of the Feast, 735 (666+69 – do I have to add a smiley right now, or a horned emoticon?)…