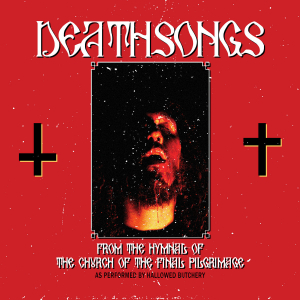 Album Title:
Deathsongs (From The Hymnal Of The Church Of The Final Pilgrimage)
Some might recognize the name of Ryan Scott Fairfield from his activities in Terrible Old Man / Toxic Cross, but he used to be the guy behind Hallowed Butchery as well. 'used to be'? Well, no no no, for Hallowed Butchery apparently have not faded away yet into the one true reality, death. It took a decade or so, but this project resurrected from oblivion with a new pièce d'art sonorique, called Deathsongs (From The Hymnal Of The Church Of The Final Pilgrimage).
This project did release some material in between 2004 and 2011, with Funeral Rites For The Living as highlight - yet then an unbearable silence entered. Oblivion, nothingness, a bottomless void; doom too…
Yet apparently, Ryan started writing new material and recording this as from 2018 at his rural Doom Room residence. For this album, he found inspiration by some Jonathan Curless, founder of the Church of the Final Pilgrimage. For about a month, Ryan lived with this small 'sect'. He was intrigued by the fact that this church was not exactly following a 'god' or a 'messiah' specifically, yet rather worshipping 'death' as inevitable part of our physical existence on Earth. 'Death is the one true reality, and when we embrace the fact, we begin to live fully for the first time'. It's like a cult preaching not to fear the end, yet to embrace the beauty of that next level in life. Death-worship frees the mind. The consummation of death itself frees the body. This sect is quite small, residing in Maine, and living a life quite primal (no electricity or internet, no cars or modern technology whatsoever).
Deathsongs (From The Hymnal Of The Church Of The Final Pilgrimage) sort of 'celebrates' our mortality, initially self-released in April 2020 on tape in an extremely limited edition. It's based on the beliefs and philosophies of Jonathan Curless, also being the author of 'The Consecrated Tenets Of The Church Of The Final Pilgrimage'. That essay forms the main basic lyrical side for this album, by the way, for it did inspire Hallowed Butchery's textual side of Deathsongs (From The Hymnal Of The Church Of The Final Pilgrimage). I do have the impression that it is sort like a 'tribute' from Ryan to the cult of Jonathan Curless and his Church, even though Ryan would not be seen as a disciple of this sect. The lyrics by Hallowed Butchery are quite explicit yet impressive, while the quotes from the inspirational source of this album are at least as impressive and quite 'true' in a philosophical and self-aware manner. Nice…
So, as said, there was a first release on cassette in Spring 2020, being sold-out quite fast. But never underestimate Stu and Aesthetic Death, for this staff ingeniously decided to have this material reprinted professionally. That means: a unique three-folded digipack compact disc with two booklets, including some original text-fragments and self-created images by Jonathan Curless [album-design and layout by the mysterious Coffin Life Visuals], and there seems to be another cassette-release too. Ryan took care of the original production and mix too, while the re-mastering for the re-released editions has been done by no one else but Greg Chandler himself. Duration: about thirty-eight minutes.
The opener Ever Gloom starts with a haunting, goose-bumping introduction, but quite soon Hallowed Butchery's raison d'être shows its morbid face. Ultra-slow yet ultra-heavy riffing, assisted by ultra-deep grunts and ultra-grim screams, ultra-pounding drum-patterns and an ultra-hypnotic lead… Damn, let's start all over again. The continuation of that short introduction stands for the most pure (purified?) form of Funeral Doom in a tradition that defines bleakness and sorrow; you know, the most in-depth approach of funereal beauty as we know it. even-though this small excerpt soon goes over into another sonic fragment, it sets the tone for what's next to come.
This said… I am not going to analyze every single fragment of this album, yet let's focus on that opener once more. So, an ominous introduction, followed by the essence of abyssal Funeral Doom, and after three minutes an acoustic intermezzo, Arctic-cold yet somehow comfortable to. Guitar-work has a sweet Americana-approach, and gets accompanied by softly-sung clean vocals, before evolving into a piece of somewhat traditional-influenced and old styled (proto) Doom with an oppressive atmosphere and melodic voices. At about six minutes, things suddenly yet organically change once more into a funereal passage, based on grim grunts, down-tuned strings, wonderful drum-patterns and haunting keyboards; a mixture that asphyxiates and mesmerizes.
This is what Deathsongs (From The Hymnal Of The Church Of The Final Pilgrimage) has to offer: a monumental epos of varied Funeral Doom, rooted in the traditional Old School, lacking any form of modernistic or progressive nonsense, rather focusing on monolithic heaviness, gargantuan atmospheres of obscurity and death ceremonies, covered in a devastatingly intense sound. The variety is remarkably represented, going for the speed (don't get me wrong: it's slow for sure, with some passages that are even slower than the others) and the total execution. A piece like The Altruist, for example, has some electronic injections and a (female?) vocal contribution, the lead vocals on a piece like Flesh Borer stretch out from demonic screams and guttural grunts, over melodious chants and clean passages. There are some acoustic / semi-acoustic passages (closing piece On The Altar, for instance, is acoustic in essence, injecting hints of Sad Folk and Cold Wave) and quite some use of synth-work, fitting perfectly to the totality when used. Furthermore there are some (vocal) samples (often socio-critical in nature) and noises, used modestly yet ingeniously, some vocal manipulations and experiments, as well as a couple (or more than a couple) of psychotropic sound-collages (did I mention Greg Chandler's mastering contribution, haha; or the fact that this re-release does see the (un)light via the remarkable label Aesthetic Death?...).
Ah, you know, this album provides a glimpse of unique, multi-faceted Funeral Doom Metal, enormously opulent in details yet never becoming unfaithful to the core, the essence of the scene. Every listen reveals new aspects, new elements, new discoveries, yet these ones are so carefully hidden into the whole adventure – which is a positive element, for it withholds the bleak and funereal essence of the scene, and of the project's existence. This album is a must for fans of the scene who might feel like, in an open-minded vision, to trespass the limitations or borders of normality.
As we all know, and as we all have to accept: only death is real!
https://www.aestheticdeath.com/releases.php?mode=singleitem&albumid=4965
https://hallowedbutchery.com/album/deathsongs-from-the-hymnal-of-the-church-of-the-final-pilgrimage-remastered
https://deathscreamrecordings.bandcamp.com/album/deathsongs-from-the-hymnal-of-the-church-of-the-final-pilgrimage-remastered