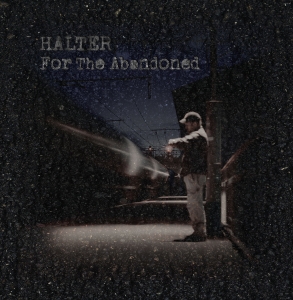 Release Date:
Wednesday, September 30, 2015
Russia's Halter can be considered some kind of continuation from defunct Neophron, though stylistically there are quite some differences in between both bands. Halter formed in 2009, and in 2013 there was a first full length, Omnipresence Of The Rat Race, which actually was their debut for MFL. In 2014 they offered a self-released EP (Post Factum), and now the quintet returns with For The Abandoned, which was recorded, mixed, engineered, produced and mastered at the Hit Studio in their home town Yaroslavl, about 200 km north of Moscow.
For The Abandoned has a total running time of almost fifty minutes. The album brings a traditional form of timeless Doom-Death Metal, though being heavily rooted within the old schooled trend. There is not much that renews the scene, but I do not think this specific current needs a progressive touch (at all). In this case one does not need any modernistic evolution, for the initial persuasion and craftsmanship says it all. Indeed, every element that did push this scene towards levels of grandeur and excellence (more than two decades ago) sort of gets pronounced by means of For The Abandoned.
But a warning be made! The quality is not beneath the average, for sure, but I do not get thrilled either, honestly. I do not mind getting confronted with clichés, as long as they do pay tribute to the essence, and as long as the quality of execution, sound, song writing, lyrics and atmosphere comes, at least, close to the origins. In all these cases I cannot be disappointed – let's be sure about that. But I do miss something outstanding, something memorable. Not once I get disappointed by one or another excerpt, but not once either I am completely blown away either. Actually, Halter does…
Aaah, skip the bull's faeces. Halter's For The Abandoned is a fine piece in case you do appreciate the tradition of melodic Doom-Death sonic darkness (My Dying Bride, Thergothon, October Tide, My Shameful, Evoken, and so on) – but if you're looking for something that exceeds these comparisons… Anyway, in essence, there is not much that does not fit, besides the total lack of inspiration. The production is of a high level, the song writing is all right, and so is the execution, and since I have never been bored, despite a handful of listens…