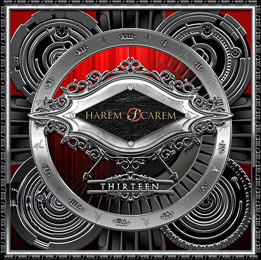 Long live Rock'n'Roll, and long live Harem Scarem. I was very sad when the split of the band was announced in 2008, and rejoiced when it was announced that the reunited band would be headlining the 20130 Firefest festival in Nottingham UK, and even more so when it was announced they were recording three new tracks for the re-issue of 'Mood Swings (II)', an album which I've only recently bought by the way.
Now this is their 19th studio album, aptly called 'Thirteen'.  And to be honest, they still sound as good as way back in the days of 'Mood Swings'.  Maybe you could say that the harder edges of 'Mood Swings' have been filed of, but then again if you listen to that particular album, although it still is one of their best albums so far, it's clear that at that time they used or mixed in a lot of effects, that in their nowadays music are gone.  By which I mean that what they now play is clear, honest music, with no extra frills.
The only minor point on this album is the playing time, which at just under 40 minutes is rather short for nowadays standards.