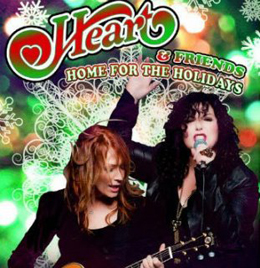 I never was a real Heart fan, despite the facts that they had some good songs, not the least of all on of their early successes 'Barracuda', but also to the fact that in the eighties I used to listen to AFN network (the radio station for the American Forces in Germany), because this was one of the few radio stations at that time that played AOR.
This release however, has absolutely nothing to do with Heart's music catalogue, or very little at the least.  There are only a few Heart songs on it, besides a lot of Christmas songs, and some other covers (among them 'Stairway To Heaven'). The recording was made on December 12th in their home town of Seattle.  This release is available as a CD, or as a DVD. Heart & Friends is because they were joined by some other famous musicians, like Sammy Hagar, Shawn Colvin, Richard Marx and Pat Monahan from Train.  But despite the facts that they all feature on this album, this does not alter my opinion about it: what a waste of time and money.
I'll explain myself : If I want to listen to Christmas songs (which I don't as a matter of fact), I'd rather buy a real Chrismas CD. And the few other songs on this album are not an incentive to buy it either, because there are too few of them.  Neither does the aid from those other musicians, famous they may be.  And on top of that it's a 'live' album, although you scarcely hear any interaction from the audience.
The only good about this album is that the Wilson sisters still sound like in their heydays, when the scored some radio successes.  But that's about it.