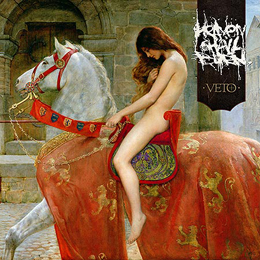 The undisputed German kings of metalcore are without any doubt Heaven Shall Burn. After fifteen years, they're still going strong and to prove that, they've just released their brand new studio album, called VETO.
The first thing that immediately comes to mind while listening to the album, is that everything sounds so clear and solid. Of course Tue Madsen must have had something to do with that as he's been working together with Heaven Shall Burn since the very beginning.
VETO even holds a cover song by another German band, the heavy metal band Blind Guardian. They've done the unthinkable by turning a classic heavy metal song into a furious metalcore song. In this song, Valhalla, you can hear Heaven Shall Burn the way they sounded a decade ago: very raw and powerful.
The highlight of the record is the second track, Land Of The Upright Ones, referring to Burkina Faso. This song is by far the most furious and heaviest song on the album and the song also proves that Heaven Shall Burn equals both the music and the lyrics.
Heaven Shall Burn shows that metalcore isn't dead at all and that the haters should think twice before putting a band in a box. VETO turned out to be an excellent metal record. Don't miss them on their performances at Fortarock and Graspop Metal Meeting this Summer. The dawn of a new age is near ...