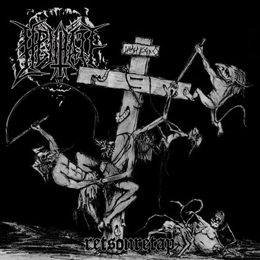 HellHate are a Ukrainian act that were formed in 2008, but despite five years of career, they didn't release but one EP / MCD, called retsonretap (got the meaning? does it reek of blasphemy? Look at the artwork and indeed, the Horned One must be a close friend of this trio). Noxious (b), Ugrum (v, g) and Bloodsucker (d) recorded this material in very early 2013 at the P.A. Studio, and the five tracks last for fifteen minutes and a half.
What strikes me as from the very first seconds of opening track Hellhate are the fabulous drum patterns. And indeed, throughout the whole record, these ones are very prominent and highly supportive. But this material has much more to offer. HellHate's Black Metal breathes the core of the tradition, but without losing itself in once again another Second Wave attitude. Don't get me wrong; this band ís Old School in blood and veins, but their material is injected with Teutonic elements and a very own, characteristic approach. One might say it sounds groovy, but the band does not groove; it's just their interpretation of symbiosing rhythm and structure; and that's just fine, the way they express this. Also the equilibrium in between aggressive heaviness and crafted melodicism is unique.
retsonretap is a recording that you like, or you do not. The gurgling vocals, the rough sound, the specific melodies, and the unholy execution; these aren't but a couple of elements that define this band's specific approach. But this highly provocative challenge is something I do recommend if you pretend to have concrete testicles.