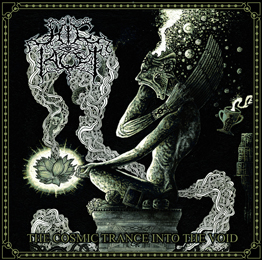 Album Title:
The Cosmic Trance Into The Void
One of the most mysterious projects from Spain lately is this one: Hic Iacet, known from quite an interesting demo (Hedonist Of The Death, released on vinyl too), and the 7"EP Prophecy Of Doom. And now this project returns with the first full studio album, which lasts for thirty eight minutes (six tracks).
The Cosmic Trance Into The Void (if it were for that title alone…) goes on in the vein of, and at the same time much further than on the earlier works. This material stands for some mystical and occult expression of morbidity, visually expressed by cover art oh so great (!), and sonically translated in a bestial, monolithic mixture of grim old schooled Doom-Death, blasphemous Death Metal and hints of Ritual Black Metal. Iron Bonehead have some kind of privilege status for this kind of Aural Art, and once again they succeed to surprise. Main reason is that Hic Iacet come with, at the one hand, that typifying sound / approach that characterizes acts like Ævangelist, Portal, Temple Nightside or Rippikaulu, but they have so much additional to bring to. What about those banjo-sounding strings in the title track? Or the riffing in the vein of Samael's earliest years (up to Worship Him)? That weird (once again occult) intermezzo in Into The Bowels Of The Absolute? Or the mantric-Oriental introduction for Mahakala, probably the most gruesome, nasty and blackened (not vocally) piece on this album… Though, the highlight of this album must be the last track, at the same time, the longest one (over ten minutes) The Catacombs Of The Mandala, that sort of collects the best elements from the former songs, and from the earlier releases, all in one. The result is an oppressive, uncomfortable but pleasant journey through abyssal spheres of aural superiority.
To end with, something I did 'steal' from the biography I received from the label: 'a cavernous womb / tomb of pestilence, echoing sepulchral bellows from nameless depths, The Cosmic Trance Into The Void will take you there'… Isn't that sweet?...