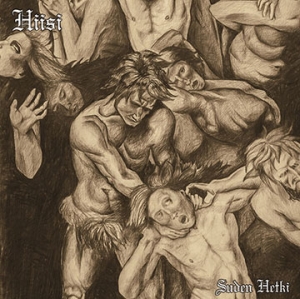 Release Date:
Thursday, September 24, 2015
Hiisi are a pretty young project by the same-named vocalist and multi-instrumentalist Hiisi and drummer VRTX (real name: Ville Pallonen). The latter is also (currently or formerly) involved with, for example, Hin Onde, Azaghal, Oath, Hellkult or Druadan Forest, as well as with his solo-outfit V-Khaoz. That one, V-Khaoz, is part of a split with Kalmankantaja, which has recently been released too via Patologian Laboratorio Productions (review coming very soon, so watch out). Hiisi, and so is the project V-Khaoz, for your info, are the only projects in a series of four (superb) releases on Patologian Laboratorio Productions, that do not directly involve label owner Aki Klemm. Higher mentioned Kalmankantaja, for example, is, and so are the likes of Hautakammio, Seal Of Beleth or Grimirg, for example. Anyway, about everything on this specific album was written and composed by main member Hiisi, yet it got recorded and mixed at the Patologian Laboratorio Studio by, indeed, Aki 'Grim666' Klemm.
Suden Hetki lasts for thirty seven minutes and consists of five new tracks and the two compositions that were part of the split with Oath (a band that includes both Ville and Aki; doesn't this sound somewhat incestuous???). It appears in an edition of (only) 200 copies, by the way.
Like many bands and projects from the Suomi country, the lyrics are in the Finnish tongue, and since my Finnish speak is as good as my Botswanian one, I am afraid I cannot say much about it. Oh yes, I do not think it deals with the joy of birth or the happiness of love… Forgive me if I'm wrong…
From aural point of view, Hiisi bring something that surely focuses on the tradition of the old school, with the Finnish contribution to the Second Wave in mind, rather than any other European approach (which is, I think, pretty evident). It means an inherent roughness in execution, and a profound obscurity in sound, but once again I think it does fit despite a certain self-created identity. This surely has to do with the great song writing. Hell no, do not expect something that renews the scene, for you will find no evidence to that. Especially both 'older' tracks do prove me right! But seen the strength and conviction, Hiisi turn out to be, once again, a Finnish project that needs, that deserves attention, despite the limited content of one's wallet… This goes for every piece on this album, which easily brings me to the next comment: variation. I do not mind the lack of originality (why should I anyway), but maybe, just maybe, that variation… Yet then again, after a handful of listens, when the whole result lightens up in the listener's mind, you might start to enjoy the different layers underneath, the specific details that make Suden Hetki an attractive aural experience. Think about the few yet highly important synth lines, the grandiose revival of the Second Wave tradition / trend, or the cool mix and production… The newly written stuff indeed might sound much more 'mainstream' (yeah, I know I am sort of exaggerating), yet still it is quite cool to listen to; but one might miss the honesty of the initial rawness… But that's another story, not to be told by undersigned. I think this album is, once again, a great effort via Patologian Laboratorio Productions, and the 'true' fans amongst you now know what to search for…