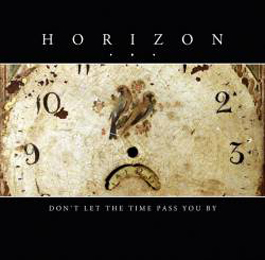 Album Title:
Don't Let The Time Pass You By
That's one of the things I do like about Belgian label Immortal Frost Productions. They do mainly focus on Black Metal in a rather general approach (from melancholic Ambient-laden doomy stuff to thrashing Old School madness, and everything in between), but they do sign bands and projects too that do not perform 'Black Metal' in its literal definition, but which atmosphere or spirit is related within the same obscure, grim and bleak regions. In a very near future you'll able to read the review on Night Amore's Subscribers Of Death, or Vertebra by Italian project Australasia, and on July 20thConcreteweb updated the review for Astral Winter's new album Perdition. Check this stuff out (not necessarily the reviews, though that's not forbidden, of course, but I mean the albums!) and enjoy the relationship with non-Black Obscurity!
This intro is meant to warn you, for Don't Let The Time Pass You By is not a Black Metal recording either, despite being on Immortal Frost's roster.
Horizon … are a one-man project from the Land of a Thousand Lakes, founded by a guy who calls himself -S. Not only did he write and perform all stuff on this five-tracker; -S also took care of the mix and mastering, in order to control the whole process and the final result himself.
Don't Let The Time Pass You By is meant to be a personal expression of life struggles and emotional thoughts. The mini-album (twenty minutes of length) opens with Flight Of A Snowflake, a chilly, eerie soundscape based on floating keyboard lines. It's a piece of Ambient Music with an introvert-emotional character, bringing acts like Nebula VII to mind. Next composition, the short but euphoric Above The Ashes, The Blue Sky Gazes, is different. It's more like a spacy-electronic and techno-loungy soundscape. The Darkest Days Are Finally Gone (sounds positive, not?!) can be labeled as a Neo-Classical track, with leading piano parts and floating keyboards on the background. It breathes a sense of melancholy, but not of the depressive, suicidal kind; rather introspective and, at the same time, ambitious. The Time Passes You By mingles the elements from both former compositions. It withholds the emotionality from its predecessor, mixed with the quasi-happiness of the second creation on Don't Let The Time Pass You By. My favorite (besides the opening track) is the final epic on this record, called Light To Thy Path. It starts like the opening track, with simplistic synth lines, but evolves into another space-like electronic piece, yet not of the Techno / Lounge-oriented kind this time. The soft-electronics and piano, with atmospheric keyboards at the background, create an atmosphere so dense, oppressive and integer; this intriguing piece of ambience is the most directive definition of what Horizon …'s (dark yet enlightening, and personal yet mellow) music stands for.
Important note: the first pressing (and I do not think there will ever be a second one) was done in an edition of 300 copies only… Conclusion: hurry up!